Stress is an essential part of all of our lives. It is a normal and natural response to challenging circumstances, but we all know that there are times when it can become unhealthy. In my experience, motherhood provides us with plenty of opportunities to feel flooded with stressful emotions thanks in part to fluctuating hormones and neurological changes in our brains (1). These evolutionary advantages make human mothers more adept to caring for and nurturing our babies, but they also make us more alert to stress-inducing risks and perceived threats, making us more susceptible to stress (2).  
Motherhood provides us with plenty opportunities to feel flooded with stressful emotions thanks at least partly, to fluctuating hormones and neurological changes in our brains
As a psychologist and a yoga and meditation teacher who suffered from PPA, I am no stranger to coping with and managing postpartum stress. After the birth of my son in 2019, I experienced a rollercoaster of emotions that I did not allow myself to fully acknowledge or comprehend in the milky blur of new motherhood. This ultimately culminated in me having a nervous breakdown when I returned to a job working 70+ hours a week as I continued to nurse my son on-demand whenever I was home.
Why did I keep breastfeeding, many asked at the time? Partly because I felt so guilty about my long working hours and partly out of a desperate desire to mother on my own terms after a traumatic 78-hour labour which ended in an emergency c-section. Whilst many assumed that breastfeeding added to my stress levels, I felt strongly that it had the opposite effect and in hindsight, I am so glad that I trusted my instincts and continued. The lessons that I learned at that time and in the two years since will remain with me for a lifetime and I would like to share some of them with you.
Top tips for managing stress while breastfeeding
Here are my top tips for managing stress while breastfeeding:
Get to the root of your stress
This is the most important step for stress management in my view. All of the stress reduction techniques in the world are only temporary solutions if the source of your stress persists. Are there pressures in your relationship that are causing you stress? Are you perpetually sleep-deprived? Is there a family rift that needs to be resolved? Self-awareness is a powerful tool when it comes to coping with stress (3).
Often breastfeeding can be used as a scapegoat to mask other issues and until you can be completely honest with yourself about what they are, you will not find the peace that you deserve. Equally though, there are undoubtedly time when breastfeeding may well be a true source of stress for you and if this is the case, you should allow yourself the grace to admit this and to sop if you know that it will serve you and your family best.
Often breastfeeding can be used as a scapegoat to mask other issues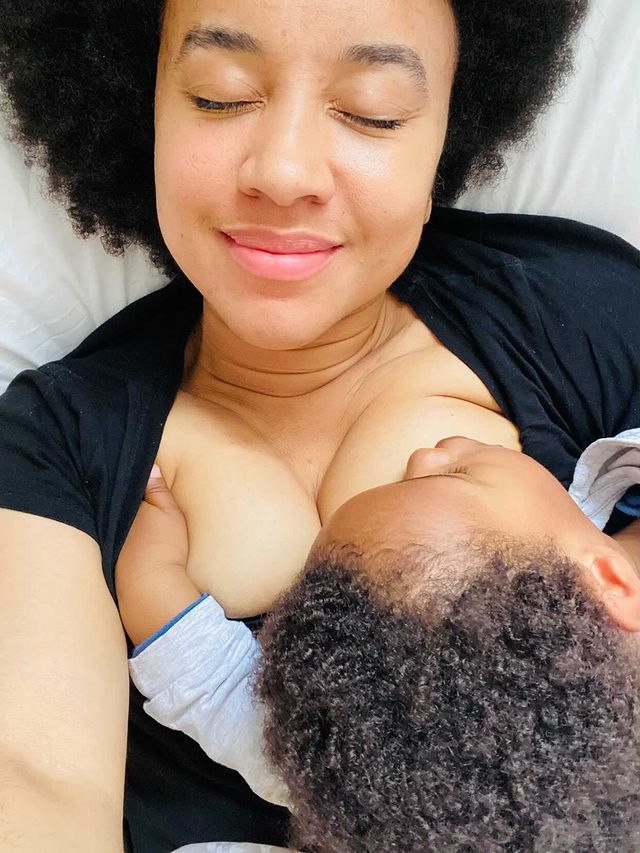 Stress reducation techniques
Using simple breathing techniques
Once you have identified the source of your stress, there are a range of techniques that you can employ effectively even if you are a new mom in the throes of the fourth trimester. A wonderfully soothing breathing technique called 4-7-8 breathing is fantastically simple and effective and it can be done anytime, anywhere. To practice it, start by emptying your lungs. Then inhale for the count of four, hold your breath for the count of 7 and exhale and allow your body to relax for the count of 8. It is the ratio of this technique that is so powerful and so you can count as quickly or as slowly as you like and still reap the benefits. 
Eating nourishing foods
Eating a variety of fresh and whole foods is another powerful way to manage your stress levels on a physiological level (4). That does not necessarily mean missing out on that slice of cake, but by eating a banana first you will be serving your body as well as your mind. Aim to equip your brain with all of the nutrients that it needs to function properly and to help you take the best possible care of yourself. Eating well need not be hard work; eating fresh, frozen or dried fruits, are a quick and easy way to add some much needed nutrients into your diet. Whizz them into a smoothie with some leafy green veg for a convenient and tasty way to give yourself a boost of vitamins and minerals.
Eating a variety of fresh and whole foods is another powerful way to manage your stress levels on a physiological level
Relaxation techniques
Meditating
Finding time and ways to relax as a nursing mom can feel impossible at times, but by prioritising rest and relaxation as an essential part of your day, you will reap the benefits that a little downtime brings. Meditation is a wonderful way to give your mind and body a chance to reset. Scientifically proven to reduce stress, lessen anxiety and even boost your immune system (5), meditation is a wonderful tool for allowing your mind to feel refreshed even if your days and nights are full. If you are new to meditation, try one of the many free meditation recordings available on YouTube. You could listen to one as your nurse your babe as you are on a safe surface (in case you fall asleep!). Just remember that meditation is not about stopping your mind from thinking, as many people assume. Rather, it is about finding peace, stillness and acceptance amidst the thoughts that flow through your mind every minute of every day.
Breastfeeding in the right environment
The very practice of breastfeeding itself can be incredibly relaxing if you are in the right environment and if you adopt a relaxed mindset. When you nurse your little one, oxytocin – the love hormone – is released into your bloodstream, creating a sense of wellness and even sleepiness. Rather than worrying about the washing up or the 101 things that you could be doing as your nurse your little one, allow yourself to be fully present and soak up every bit of love as it flows between you both. If you experience feelings of aversion when you nurse, I highly recommend speaking to your GP or lactation consultant about DMER (dysphoric milk ejection reflex) to help you manage and relieve those symptoms.
Prioritising me-time
As a nursing mother, the greatest barrier to you being able to relax may be the pressure or guilt associated with giving yourself permission to carve out some me-time whenever you can. One way to combat this and to allow yourself to prioritise your wellbeing. Remember that as mothers we are some of our children's first and most important role models. If we do not show our little ones how to relax, then we cannot expect them to learn how to do so themselves. If you are struggling to find time and ways to relax while breastfeeding, cast your mind back to your favourite ways to relax before you had your child(ren). Then, schedule a time when you can do just that at some point in the coming weeks. Do this in the knowledge that you deserve just as much TLC as your precious babe and that taking time to de-stress benefits your whole household as well as it does you.
Taking time to de-stress benefits your whole household as well as it does you.
These tips are adapted from Danielle's forthcoming book: 'Self Care: The Breastfeeding Edition'. Subscribe via www.thebreastfeedingmentor.com for updates on the forthcoming release date.
Sources:
1) https://www.ncbi.nlm.nih.gov/pmc/articles/PMC6440938/#:~:text=(2010)%20assessed%20morphological%20changes%20of,%2C%20prefrontal%20cortex%2C%20and%20midbrain.
2) https://www.ncbi.nlm.nih.gov/pmc/articles/PMC6440938/
3) https://www.dit.ie/counselling/psychoeducationalsupportoptions/anxietyandstress/
4) https://www.mentalhealth.org.uk/publications/how-manage-and-reduce-stress