Returning to work after maternity leave can feel daunting – especially if you're a breastfeeding mother. Lots of questions may be going through your head – like how will I maintain my milk supply when at work all day? Will my baby take a bottle of milk? Will my employer give me the time and space to pump milk? It's enough to make anyone feel stressed!
Whether you're returning to work soon after giving birth, or a year after giving birth, it can be a difficult and emotional transition for you and your little one to make. There will be a shift in schedule and new changes to adapt to. This can often be daunting but it doesn't have to be difficult!
Nowadays, support for working mamas is gradually getting better and the hope is you don't feel pressurised to give up breastfeeding sooner than you'd like to.
To help you feel confident about returning to work as a breastfeeding mama, we've listed five things that you can do to prepare for this new phase.
1. Get to know your breast pump and practice expressing milk
For the first 6 months a baby's only nutrition is milk and it's a big part of their diet until one year of age and beyond. Therefore, if you return to work before baby is a year, you'll need to consider expressing milk whilst apart from them. If your baby is around or over a year when you return to work you may not need to express at all unless your breasts become uncomfortably full.
If you plan on expressing milk then it is a good idea to begin pumping in the weeks leading up to your return to work – unless of course you already pump regularly. If you're new to pumping, don't be disheartened if you are unable to pump much milk in the beginning. You need time and practice to pump milk. Read this top tip guide on how to pump more milk.
Exclusive boobingit discount code
Use code 'boobingit' to get 15% of the Lola&Lykke breastfeeding collection
By pumping before you go back to work you can get familiar with your pump, help increase the likelihood of pumping enough milk for feeds, and benefit from having milk in storage. Having a milk stash in the freezer can take the pressure off producing enough milk for your little one straight away when returning to work as you will already have a 'back-up' supply.
Perhaps you already have a breast pump, and you plan to continue using it when you return to work. If however, you do not have a breast pump, or you would like to purchase a new one in advance of returning to work, then it's worth doing some 'homework' to assess what kind of breast pump will be best for you.
The Lola&Lykke Smart Electric Breast Pump has been voted as Best Breast Pump of 2022 by Mother&Baby and MadeForMums Awards. It also has a stronger suction level than other pumps on the market, giving you the confidence to be able to pump more milk when it matters most. You can also pump to and feed directly from their handy milk bags.
✔ Wireless, lightweight, and compact, Lola&Lykke Electric Breast Pump comes with a 2-hour life rechargeable battery so that mums can pump anytime, anywhere.
✔ The touchscreen technology featuring the memory button and timer makes pumping a convenient experience, allowing mums to easily track and record pumping sessions.
✔ The pump has 6 stimulation modes and 9 expression levels for personalised comfort, reducing pressure, and optimising milk flow.
2. Speak with your employer
As your maternity leave draws to an end you'll be speaking with your employer about your return to work and making arrangements for this. For example, perhaps you'll be requesting flexible working hours, to work from home or for a phased return to ease back into things. Have a think about what might suit you best and discuss different options with your employer.
This is a good time to let them know of your intention to continue breastfeeding. This will allow them to see how best they can facilitate your return and support you as a breastfeeding person. It will also allow them to undertake a risk assessment to ensure they have suitable facilities to accommodate your needs as a breastfeeding/pumping person.
You may wish to ask your employer if there is a breastfeeding policy in place for you to refer to. It is good practice for companies to have a breastfeeding/expressing policy for employees. For your part, make sure your employer knows it is your intention to express milk upon returning to work so they can prepare for that and accommodate your needs in the best way possible.
At the very least you should expect to be given the time to express milk as well as a clean and private space to express from. You should also have access to a fridge in which to store your breast milk in, if required.
Depending on where in the world you live, there may or may not be legal rights in place for breastfeeding/expressing at work. Some countries are very progressive in their outlook to working mothers who breastfeed. For example, there are many countries that insist on women having paid breaks to pump. Unfortunately, there are other countries that are far slower on the uptake and may not even have a legal stipulation in place.
You can refer to the World Alliance for Breastfeeding Action (WABA) 'Parents At Work' guide to find out what breastfeeding breaks are allowed in the country you are in.
3. Organise childcare
Aswell as speaking with your employer you'll also be assessing your childcare options for when you return to work. Perhaps you have a partner or family member who will be staying at home to look after your child whilst you go back to work. If this is not the case then you may be looking into daycare or nursery placements, or a childminder.
If you go down the nursery or daycare route then you may wish to choose one close to your place of work to allow you to visit your child during break times. This may also bring with it the benefit of being able to continue to breastfeed them during the day.
Exclusive boobingit discount code
Use code 'boobingit' to get 15% of the Lola&Lykke breastfeeding collection
Whether your child will be looked after by a family member, a childminder or will be at a nursery group, speak with the person responsible for looking after your child to let them know you are a breastfeeding mother. Tell them how important it is for your little one to continue to receive your breast milk. Let them know if your milk is to be given to your child via a cup or bottle.
It may be worth having a trial run with your childcare provider before you go back to work. This can help you assess if there is anything more you need to consider or put in place to make the transition to work as straight-forward as possible.
4. Practice giving your baby a bottle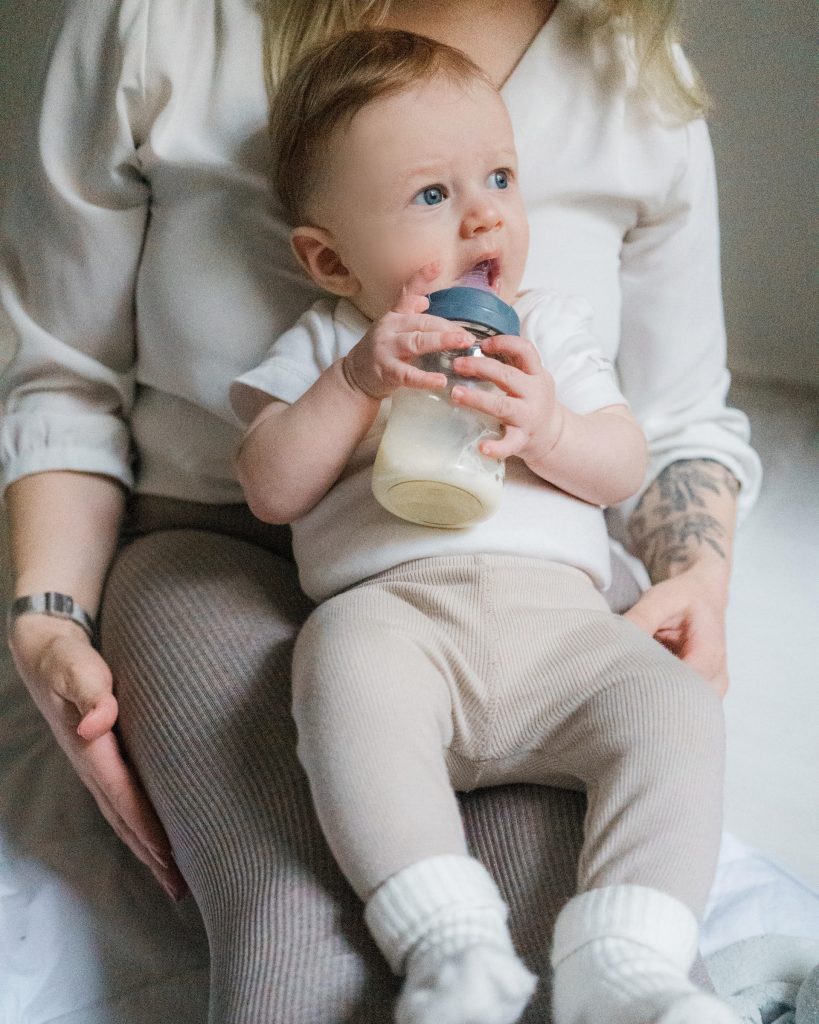 If you've been on maternity leave and have never given your baby a bottle of milk then you may be a bit apprehensive about doing so. In the weeks running up to your return to work, practice giving your baby a bottle so that they can gradually get used to this.
You may find your baby takes to the bottle straight away with no issues. Alternatively, your baby may refuse to drink from a bottle. Some breastfed babies have a hard time feeding from a bottle, especially if all they have known is feeding directly from the breast for the first few months of their life. Taking milk from a bottle is a new skill for them to master and so it's important to be patient with them.
Exclusive boobingit discount code
Use code 'boobingit' to get 15% of the Lola&Lykke breastfeeding collection
Before you begin bottle feeding, you'll need bottles and a sterilising machine to clean the bottles. Once your bottles have been cleaned and sterilised you can add your breast milk to the bottle.
The Lola&Lykke NaturalFlow Baby Bottle has an ergonomic design and non-collapsible teat with an anti-colic valve mimic the natural feeling of the breast for a better latch. These features ensure the switch between breast and bottle is as smooth as possible for you and your baby.
5. Consider how you will store and transport breast milk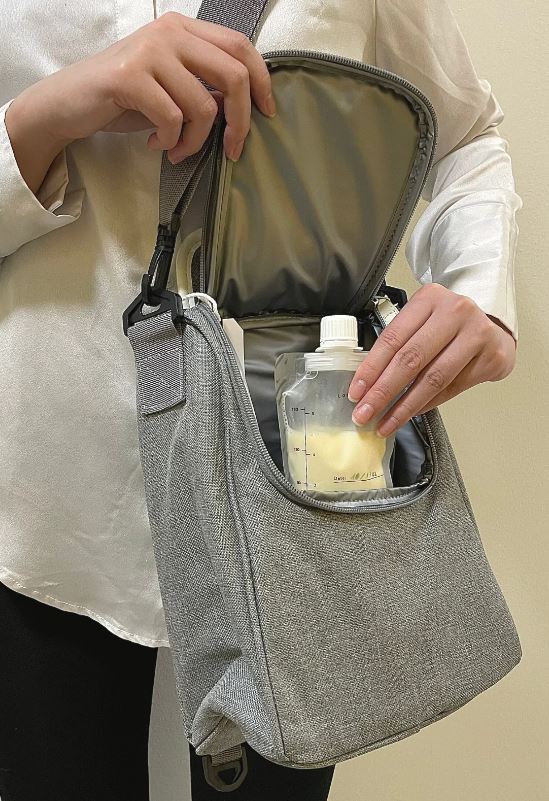 When you use a breast pump at work you'll need to store your breast milk soon after, unless, of course, you plan to feed your baby with that milk soon afterwards (breast milk can be kept at room temperature for up to four hours). For this reason, you'll need milk storage bags or milk bottles to keep your milk in.
You may wish to invest in a cooler bag to store and transport your milk in. Having a separate space for your express milk means you can quickly and easily access your breast milk when you need to.
If you plan to use the expressed milk within a few days then you can store it safely in a fridge for between 3-5 days. The milk can be stored in a sterilised breast milk storage bags or in a breast pump carry and cooler bag but be careful not to store it in the door of the fridge as this can expose it to mixed temperatures (due to door opening and closing).
If you want to store your milk for a longer period of time, then you can do so in the freezer. Breast milk can be kept in a freezer for up to six months in a sealed breast milk storage bag. Remember to write on the bag the date and the amount of milk there is so you can keep track of when it needs to be used by and how much you actually have.
Expressed milk from different feeding sessions can be combined if it's been expressed over the course of the same day, but avoid mixing cold milk with milk at room temperature. Instead, cool the room temperature milk and then add it to the already cold milk.
Remember to label and date your breast milk – for your own benefit and for other people's awareness should you be using a shared fridge at work.
Fridge and freezer storage
| | | |
| --- | --- | --- |
| | Fridge storage | Freezer storage |
| Safe storage | 3-5 days in a sterilised milk storage bottle or breast milk storage bag | Up to six months in a breast milk storage bag |
| Be careful | Store milk at the back of the refrigerator. Do not store in the fridge door. | Store milk at the back of the freezer away from the sides. Defrost in the fridge, not a microwave |
The Lola&Lykke Breastfeeding Kit is a complete solution for nursing moms. The kit contains everything essential for easy expressing, pumping, feeding, collecting, and storing breast milk when returning to work
It comes with the Lola&Lykke award-winning Breast Pump, Cooler Bag, Nursing Pads, Baby Bottle, Breastmilk Storage Bags, and many more. Moms will find everything she needs in just one package for a successful breastfeeding experience.
Disclosure: This has been produced as a friendly and helpful guide to returning to work and breastfeeding and should in no way be used as a medical reference guide.
Exclusive boobingit discount code
Use code 'boobingit' to get 15% of the Lola&Lykke breastfeeding collection