As World Breastfeeding Week approaches (1-7 August) I'm excited to announce boobingit will be doing a series of Instagram Lives. We've got five amazing guests lined up and as the founder of boobingit.com I'll be speaking to someone different every day from Tuesday 2 August to Saturday 7 August.
What is World Breastfeeding Week?
World Breastfeeding Week is a yearly worldwide campaign organised by the World Alliance for Breastfeeding Action (WABA). Each year has it's own theme and for 2021 the focus is on 'Protecting Breastfeeding'. The aim is to show and understanding "the links between breastfeeding and survival, health and wellbeing of women, children and nations."
Breastfeeding is one of the best investments for saving lives and improving the health, social and economic development of individuals and nations. There is a growing need for breastfeeding to be seen as shared responsibility in order to protect, promote and support breastfeeding for sustainable development.
boobingit's role during World Breastfeeding Week
We have a number of exciting initiatives lined up to celebrate World Breastfeeding Week and to bring together our ever growing community of boobingit parents and contributors. The first of these is a series of Instagram Live events where I'll be talking to a number of special guests about different breastfeeding topics.
Join us for Instagram Live interviews over five days
To mark World Breastfeeding Week we'll be tackling five very different breastfeeding topics – from breastfeeding in public with confidence to looking at the underhand tactics infant formula companies use. I'm really looking forward to having interesting and honest discussions with our special guests.
Join me every day for an Instagram Live from Tuesday 2 August to Saturday 7 August. There will be a different special guest each day and a fantastic chance for us to go in-depth with a specific breastfeeding topic.
Tuesday 3 August
Breastfeeding a newborn | Kirsten Dowthwaite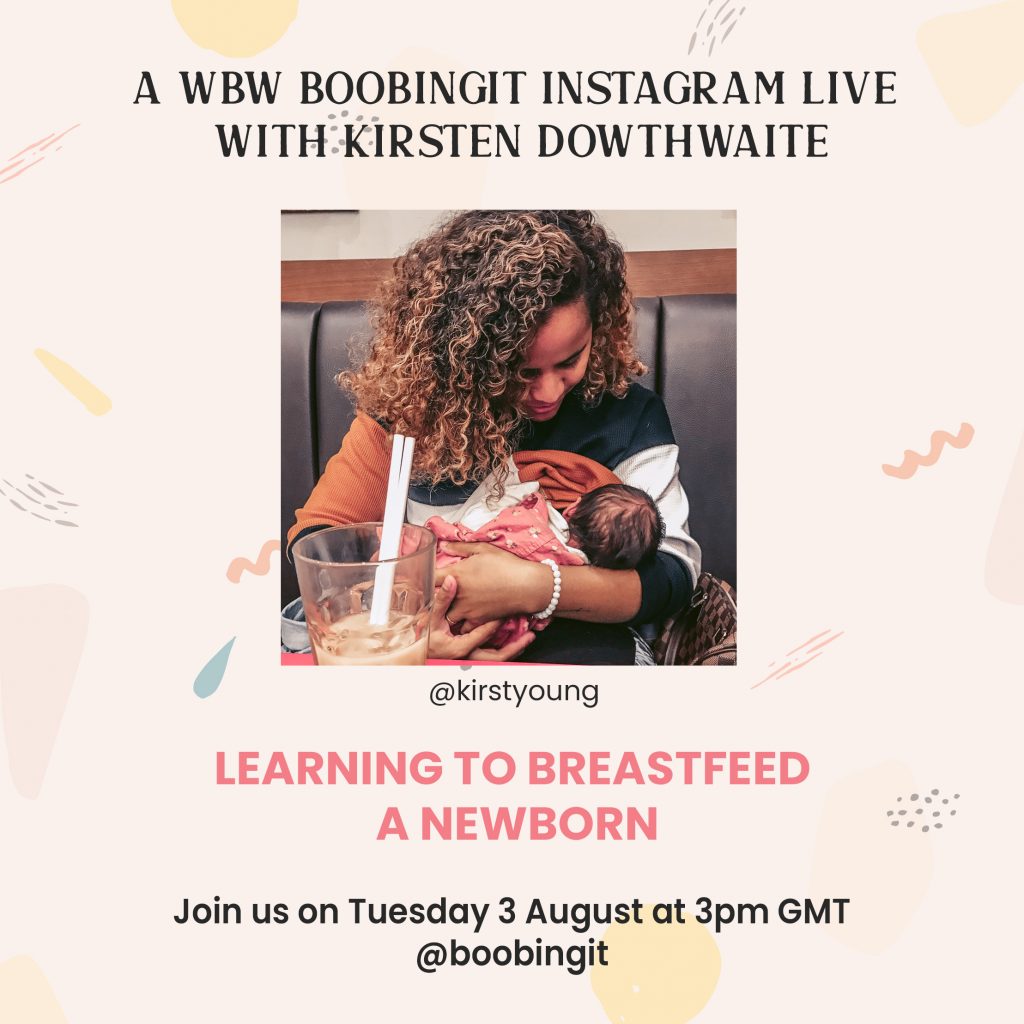 London-based commercial model and social media influencer Kirsten gave birth to her first child in April 2021. From the moment Kirsten gave birth to her daughter Willow, she has been open and honest about her breastfeeding and motherhood journey with her many followers on Instagram. So, who better to talk us through the ups and downs of learning to breastfeed than someone who is going through it all right now?! I can't wait to speak with Kirsten, and maybe baby Willow will make an appearance too?!
Mark your calendar for Tuesday 3 August and join us on Instagram at 3pm GMT
Wednesday 4 August
The underhand tactics used by infant formula companies | Becky O'Connor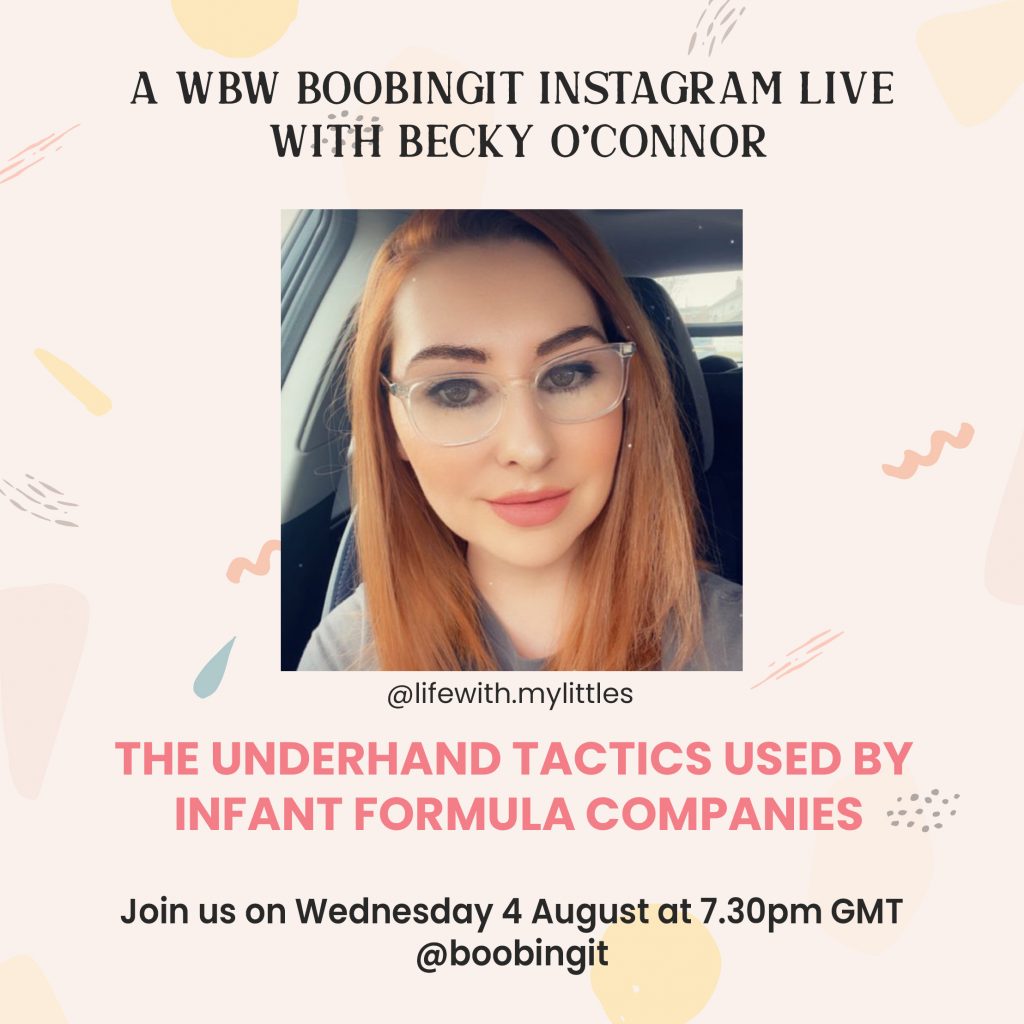 As the founder of the Facebook group Breastfeeding Guidance and Support UK, which currently has 29K members, Becky spends her days helping to inform and support breastfeeders. She's also a boobingit contributor and recently addressed the Tommee Tippee furore which blew up on social media. So popular has this article been that we just had to ask Becky to talk more about it 'in-person'. We'll be looking at the underhand tactics that infant formula companies (like Tommee Tippee) use to sell more products.
Mark your calendar for Wednesday 4 August and join us on Instagram at 7.30pm GMT
Thursday 5 August
Breastfeeding in public with confidence | Joanna Hilton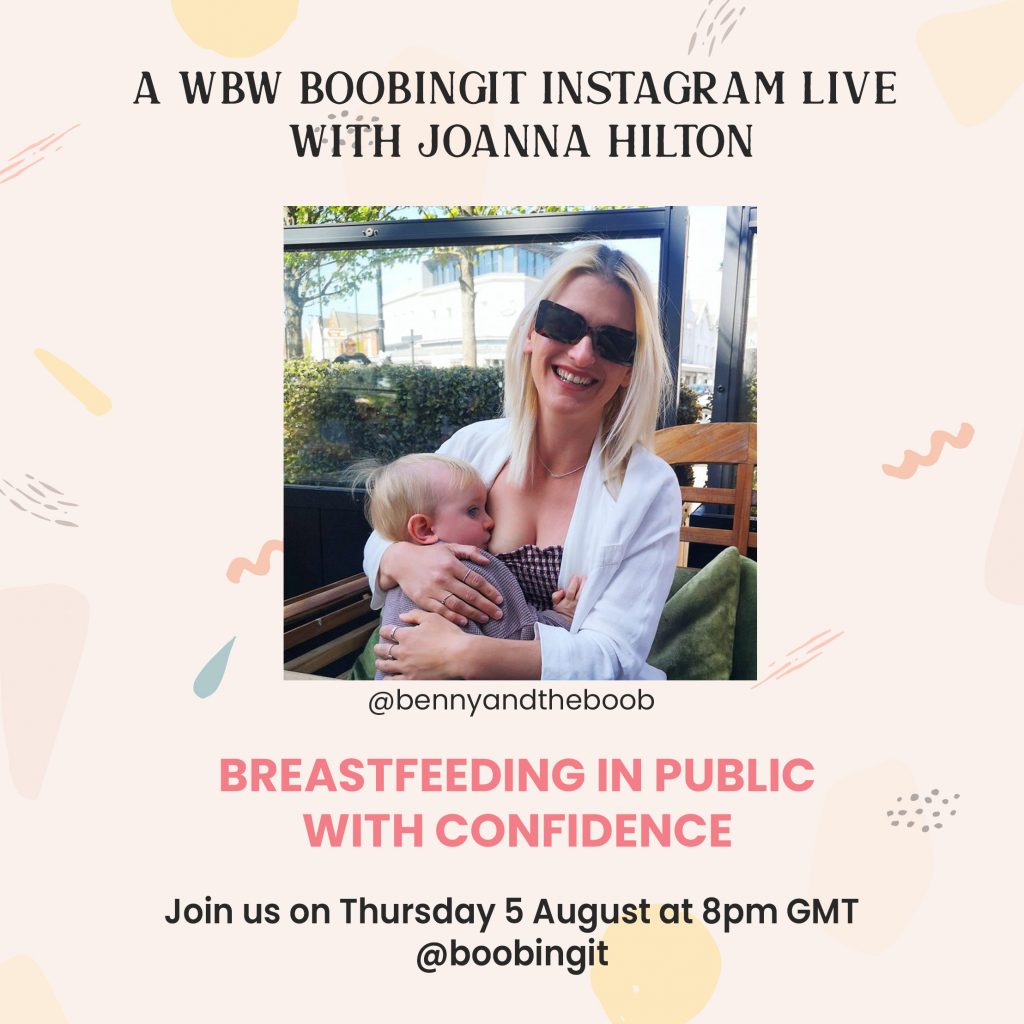 From her popular Instagram account @bennyandtheboob, former professional dancer Joanna inspires women to 'drop the cover' and breastfeed with pride. In fact, she herself will tell you she's an advocate of 'indiscreet breastfeeding', no matter where she is or who she's with! I can't wait to chat with her about her own breastfeeding journey with her toddler son and find out her top tips for breastfeeding in public with confidence. Did she always have the confidence, or was it something she worked on?
Mark your calendar for Thursday 5 August and join us on Instagram at 8pm GMT.
Friday 6 August
Why & how to donate breast milk | Alayna Curry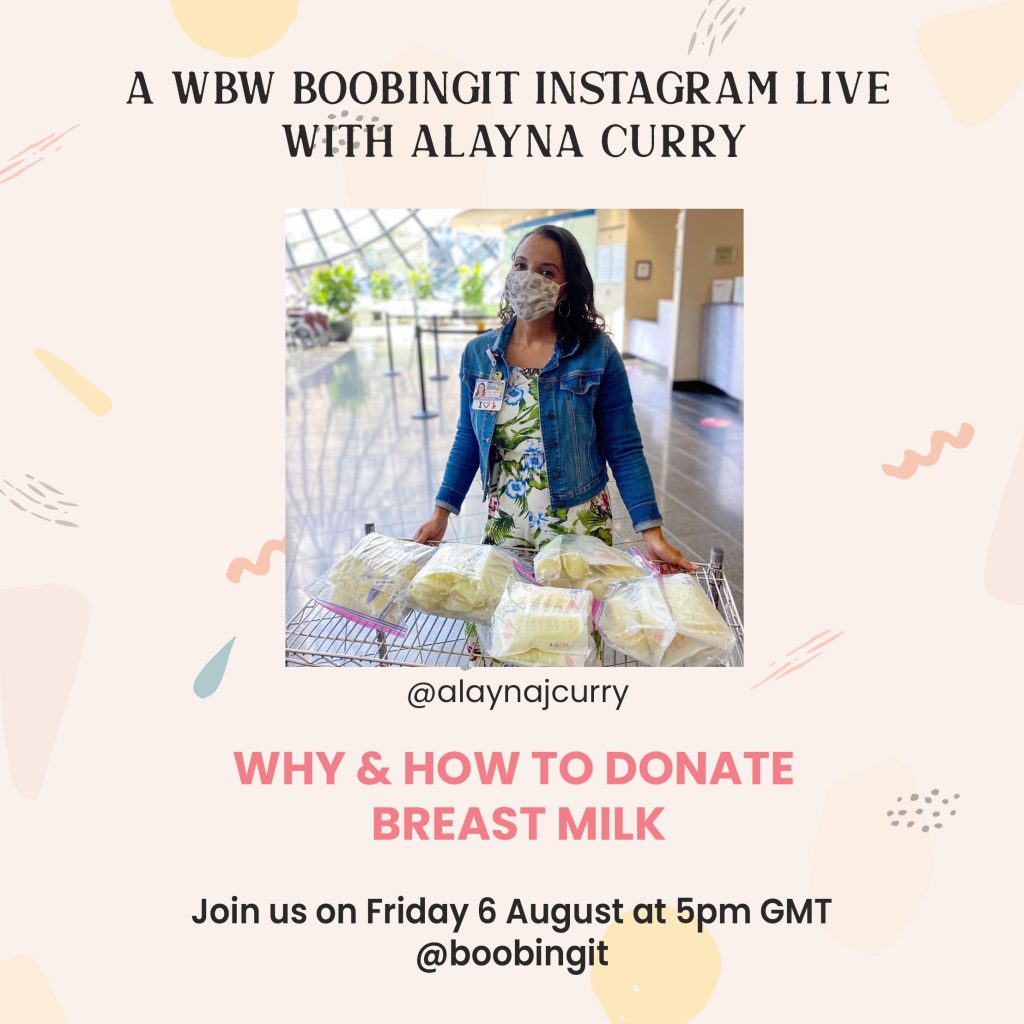 When Orlando-based PR professional and Zumba teacher Alayna shared her breastfeeding story with us last year, I was amazed and in awe at how she became a breast milk donor. So much so I want to ask her lots of questions about what inspired her to donate her breast milk, the process she had to go through, and what her advice would be for others who may wish to give the gift of milk too. Breast milk donations are vital for premature and sick babies so we're looking forward to raising more awareness about this.
Mark your calendar for Friday 6 August and join us on Instagram at 5pm GMT.
Saturday 7 August
Breastfeeding older babies and children | Emma Pickett IBCLC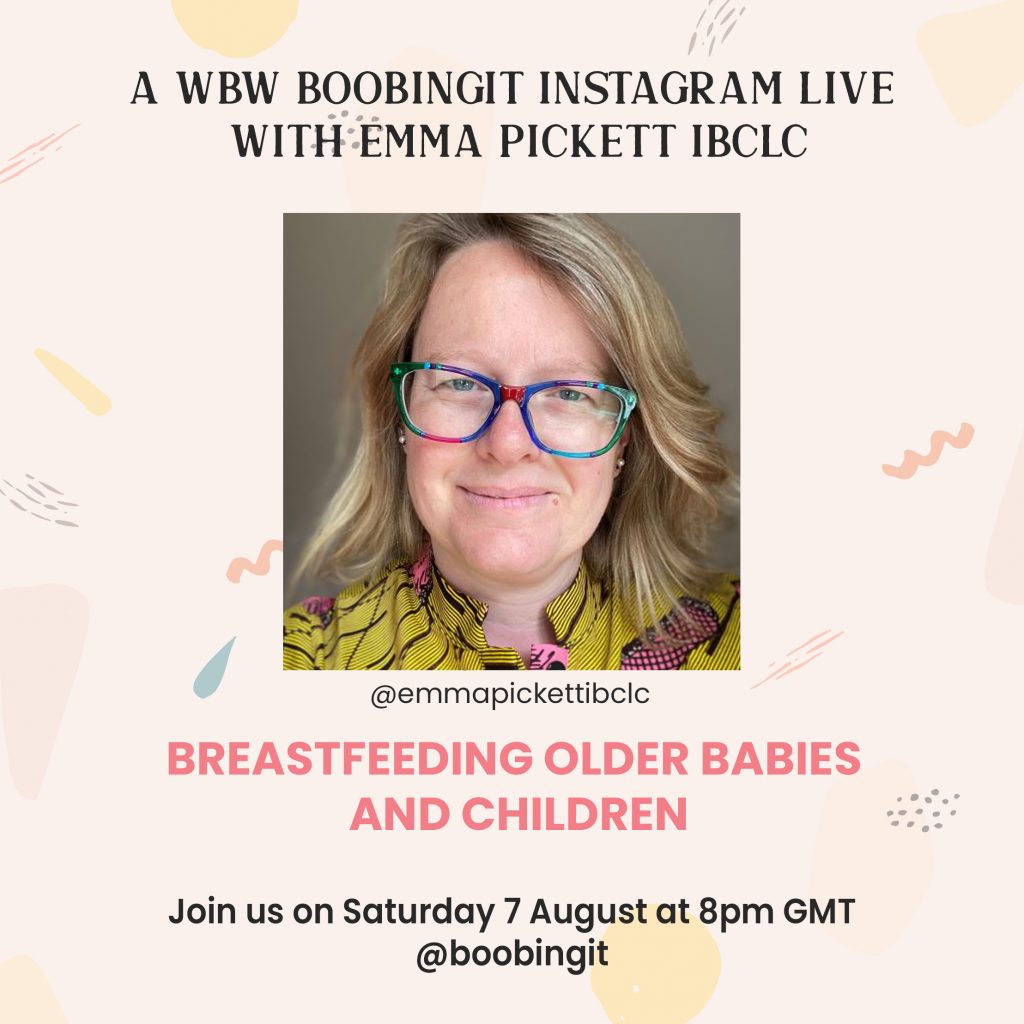 Earlier this year I welcomed Emma Pickett, IBCLC and Chair of the Association of Breastfeeding Mothers, onto the boobingit podcast to talk about the realities of breastfeeding older babies and children. It quickly became one of our most listened to episodes and so it's clear many of you are eager for more information, guidance, and advice on matters relating to natural-term breastfeeding. I am therefore excited to pick Emma's brains once again and find out when her next book is due out!
Mark your calendar for Saturday 7 August and join us on Instagram at 8pm GMT.
Make sure you are following boobingit on Instagram, Facebook and Twitter to join in with all our World Breastfeeding Week iniatives.