Prison.
It's a predominantly male environment. So when I came to go back to work as a nurse within a prison setting, I was curious to what my colleagues reactions would be to me pumping.
Returning to work and leaving your baby at home with family or with a care provider is gut-wrenching and I'd be lying if I said I wasn't slightly nervous at how my colleagues would react to me still breastfeeding and pumping at work.
I actually started off using my sister in laws bottle bag and ice packs (thanks Hayley!) until I found what worked best for me. Due to the environment and for security reasons, I decided to get myself an insulated lunch bag with 2 compartments. The top for my pump and the paperwork allowing me to take my own electricals into the prison and the bottom for storing my bottles and ice packs.
I was waiting for negative comments, but there were none
Upon entering the prison, all staff are subject to security checks which entail bags going through scanners etc. Of course the pump always flags up and I'm usually asked what's inside my bag. This was where I expected the first negative interaction to take place however to my surprise, it was a quick 'Ah OK, good for you. How's the baby'.
I went about my days, performing my usual tasks until the time comes to pump. I was given a secure room with as much time as required to make myself comfortable, pump, clean my equipment, pop my milk into the fridge and head back to whichever houseblock I was assigned. Again, no negative comments.
There were a few innocent jokes, but mostly my colleagues were curious
I attended my meetings with other members of my team, and with the exception of a few very innocent jokes, a lot of the interaction I received was curiosity. Especially from my male colleagues.
I've been back several months now and I'm yet to receive any negativity in regards to breastfeeding or pumping. I've educated a lot of my colleagues on breastfeeding, the versatility of breast milk and just how amazing breast milk can be in adapting to baby's needs and requirements.
I've educated a lot of my colleagues on breastfeeding, the versatility of breast milk and actually how amazing breast milk can be in adapting to baby's needs and requirements.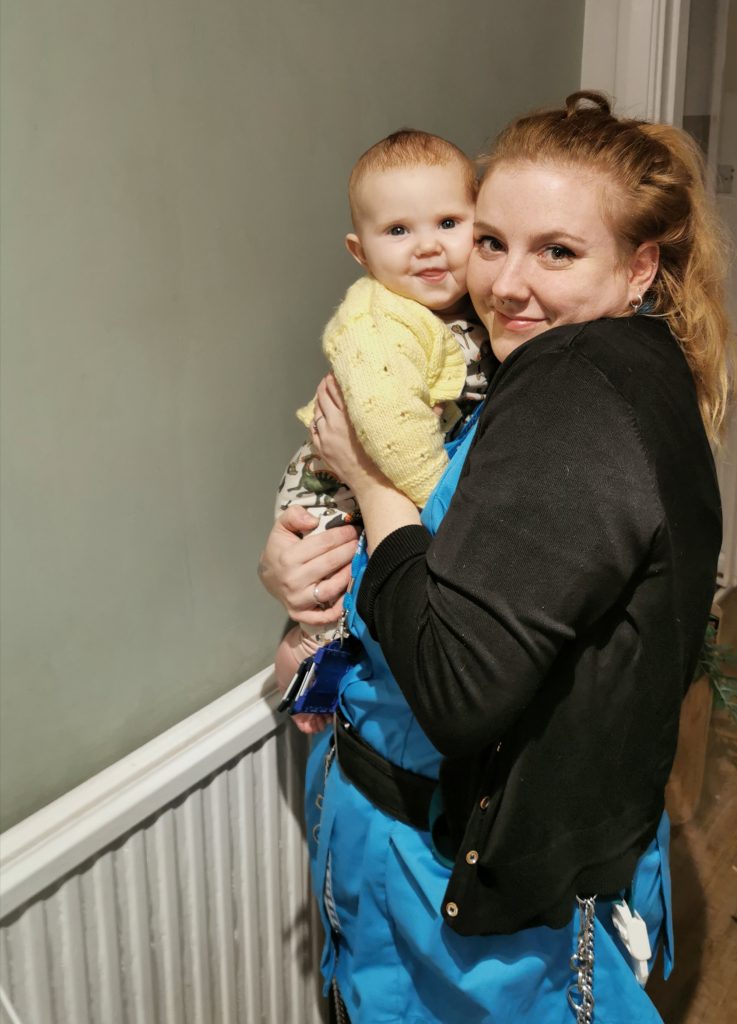 I feel very fortunate that my team not only supports me but also looks out for me by reminding me or sparing me up on tasks so that I can go away to pump.
Although I'm aware that not all workplaces are so forthcoming, I do believe that breastfeeding is becoming more normalised and accepted within the workplace.
My top tips for returning to work
Enjoy it. Of course, you'll miss your baby. However, enjoy speaking to adults. Enjoy that hot cup of coffee. Enjoy not being touched or hearing mum screamed from the top of a small person's lungs.
Pack your pumping equipment the night before and put it next to your car keys so you don't ever forget it!
Struggling to pump at work? Take a muslin with your baby's scent on and before you pump, give it a little cuddle. The scent and feel of the muslin will kick start an almighty let down!
Take plenty of water and snacks!!
Give yourself grace. It can be really tricky settling into a new routine with home life and work. It'll feel real heavy at first and you work through the new dynamics but know that the turbulence doesn't last long.
Know your rights. Before returning to work, I would have a conversation with your employer. Let them know you're planning to pump at work and work out the logistics. This would also be a good time to remind them of the laws that protect you if you come across barriers.