Happy World Doula Week (March 22-28). The purpose of World Doula week is to empower doulas all over the world! For World Doula Week 2022 the theme is 'Doulas make a difference'.
For anyone who doesn't know what a doula is: a doula is a person trained to provide advice, information, emotional support, and physical comfort to a mother before, during, and just after childbirth
Each day of World Doula Week there is a topic related to pregnancy and childbirth on how doulas make a difference in different ways. Let's have a look at these now.
Day 1 – Doulas Make a difference 
I firmly believe that doulas absolutely have a place supporting families in their transition to parenthood though most of the time it is only those who have the extra disposable income who avail of a doula's services but it doesn't have to be that way. Once you figure out what your postnatal time is going to look like then you will know whether you're likely to need or want postnatal support.
Some ways you can get a doula without having to spend your own money would be to let your friends and family know you would prefer they spend the money on getting you support instead of a toy or something for the baby etc 
A doula should not have to be a luxury. A doula should be accessible for everyone. Finding a doula is finding a valuable and cherished member of your team. ⠀⠀⠀⠀⠀⠀⠀⠀⠀
Birth and postnatal doulas have a wealth of knowledge on various topics and can help prepare you for what is to come so that in the event of any surprises you have that extra person there to help you take 5 mins to just think through the situation as it arises.⠀⠀⠀⠀⠀⠀⠀⠀⠀
A doula can guide you, hold space by just being there throughout pregnancy, birth and the postnatal period. Doulas make sure YOUR needs are met. Doulas remind you that you are an important part of this journey.⠀⠀⠀⠀
A doula can guide you, hold space by just being there throughout pregnancy, birth and the postnatal period.⠀⠀⠀⠀⠀
Childbirth is one of the most life-altering transitions. We are not meant to go it alone. Even if you have a partner, you need that village to rally behind you and remind you that you got this.⠀⠀⠀⠀⠀⠀⠀⠀⠀
Day 2 – How can doulas make a difference in pregnancy 
Doulas support women and families in all kinds of situations, wherever and however you want to give birth and whatever your parental choices are. What we offer will vary according to what your needs are. 
We will meet with you a few times before birth for your antenatal sessions to talk about any concerns or questions you have about your birth.
If you don't choose to have a doula for your birth you can still have antenatal sessions and plan for the postnatal period if you plan to have a doula for this part of your recovery.
Day 3 – How can doulas make a difference in labour and birth? 
Doulas are an extra support to you and you birthing partner we do NOT replace your birth partner unless you are birthing alone and have chosen your doula to be your birthing partner aswell.
Doulas provide emotional support, encouraging you and helping you to work through your support choices in labour this would be discussed in your antenatal session – pain relief choices, smells, lighting, hypnobirthing and so many more things.
Doulas support you through the different birthing positions, the type of birth you've chosen even if that ends up different to what you originally had planned we support you have an informed birth and help you to feel in control,
There are lots of stories available on social media about birth and labour – some are not really the best for reading as they can make you anxious unnecessarily. I recommend having a look at @motherhoodbubble on Instagram. Nicole has a whole section on birth stories and with lots of positive stories of different types of birth…hospital, C-Section, home birth. As a midwife and hypnobirthing teacher/coach she has it all covered. Hypnobirthing techniques can be used for any kind of birth – not just the ones that would have been deemed 'hippyish' in the past. 
Day 4 – Doulas make a difference with partners!
My goal is to support people as they transition into welcoming their little one into the world. This includes the other parent and partner. Doulas work together, hand in hand with birth partners, we are not there to replace your partner.
On the day of birth it is not just a baby being born into the world but a new mother, a new father, new parents are being born to create a new family.
A lot of attention is usually focused on the birthing person or mother but there is also a need for focus on the father or birthing partner. They need support and care too throughout the labour and immediate postnatal period. 
From a time where partners were excluded from the room to now where it's almost expected that birthing partners and fathers become the coach and usually during an event that they have never experienced. This can be very overwhelming!
With a doula the supporting partner can be what they are: a parent to be, a friend, a sister instead of being expected to be the expert. The doula can take the role of remembering what could/should be done and leave the birthing couple to just sink into their experience of labour and birth.
The doula makes a little invisible bubble around the labouring couple, remembering to involve the partner as much as they want to be involved. Sometime the couple decide that the supporting partner isn't present and that is ok too. The doula then provides peace of mind that the labouring partner is taken care of and can update the waiting partner as needed.
The doula makes a little invisible bubble around the labouring couple, remembering to involve the partner as much as they want to be involved.
So when deciding on a doula, remember your partner is also part of the equation.
Day 5 – How can doulas help with Lactation
Your doula is there to guide and support you with lactation whatever way that is happening for you, your doula will sit with you and provide encouragement and reinforce that you know what the right thing is for your baby (encourage you to trust your instincts) it may not be an easy journey to start with and there will be so many conflicting pieces of advice out there so please reach out to your doula and tell her what's going on and how you're feeling as this can also affect supply if you are feeling stressed and anxious about feeding.
Equally if you have expressed concerns that something isn't right if things just aren't working out the way they should your doula will be able to signpost you to someone who is a specialist in this area this doesn't mean you doula is palming you off as such it just means they know that the issues are out of their scope of practice and you will benefit (hopefully) from seeing a specialist.
This also doesn't mean your time is up with your doula that will be decided in advance between you and your partner and the doula.
Day 6 – How can Doulas make a difference Postnatally
A Postnatal Doula can help you recover and settle in to family life in so many ways including chatting through boundaries for things like visitors, a doula can listen while you chat through your birth story like a little debrief some women and partners find this helpful especially if things didn't go to plan. It is equally as important to know it's ok to feel disappointed if things didn't go to plan even though you have a healthy baby in your arms.
When things don't go to plan and you don't get to bring a baby home a Postnatal Doula can be there for you to help you navigate this transition too as your body won't know you don't have a baby to take home so you will experience all the usual postnatal things but mixed with grief can feel very traumatic so please know a Postnatal Doula is not just for families who get to bring a baby home.
If you've brought your baby home through a different way you can still have a Postnatal Doula if you've brought a baby home through adoption or surrogacy for example you might still want some professional support to help you settle in and have time to bond whilst having the reassurance that you will have a visit from your doula soon.
Having a Postnatal plan in place will help in so many ways it's just like a birth plan but for when you get home. Having a plan in place or talking through what you want your first few days at home to look like can be really helpful for working out how you will navigate things like visitors and food preparation. For example, making sure you're eating well and have enough in your freezer to keep you going for the first few days so you don't have to think about cooking. When I was recently chatting with a friend about protecting her newborn bubble, I told her that if anyone wants to visit her and the baby then they must bring a meal with them that can be frozen for another day! 'No good food No baby visit'. 
Having a Postnatal plan in place will help in so many ways – it's just like a birth plan but for when you get home.
Day 7- How can you make a difference?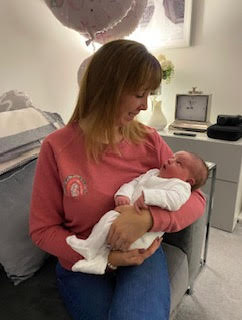 This is my second  World Doula Week and I've really enjoyed getting into it this year as last year I wasn't sure exactly how I was going to support clients. With the help of my amazing mentor I worked out what I would like my service to be. The company I trained with (Nurturing Birth) recommend we have mentoring and at first I didn't really get it but it has been so so valuable to have that person who knows exactly what it's like to be a doula and the challenges that go with it etc. I have a session every few months just to chat through clients and how I'm getting on and make sure I'm being the best version of me.
I have a passion for supporting families who maybe wouldn't usually be thinking of a postnatal doula for various reasons – but usually, because it's an extra cost they maybe can't afford and I really want to make specialised Postnatal support accessible to everyone who wants and needs it.
Within my support services, I also offer emotional and practical support to families who are pregnant after loss whether that be pregnancy after miscarriage or infertility. I am very aware how difficult and anxious pregnancy after loss can be and would love to help you navigate those early days to help you feel heard and feel empowered too.