There are two questions expectant and new parents ask a lot – how much milk does my baby drink and how do I know if this is enough? Having answers to these questions can really put your mind at ease, especially in those early days when you are getting used to your new baby and helping them feed for the first time.
Saying that it's also useful to remember that feeding your baby is not an exact science, especially when breastfeeding. Unless you are pumping and feeding by bottle or using infant formula, then you will not know exactly how much your baby is getting. It's worth remembering, that just like adults, babies have times when they'll be hungrier than others and so will drink more. In time you'll get to know your baby well and you'll be able to tell when they've had enough, and are content.
1.

How much milk does my baby drink?
Here's some general information about the amounts baby drink, going from the first week, to the first month and beyond.
First week
Babies are born with small tummies and their stomach capacity will grow a lot during the first week.
Day 1: On average a mum produces 37ml of colostrum on day 1. If a one day old baby has 10 feeds a day, they only need about 3-4ml per feed.
Day 2: A baby takes amounts of 5-15ml per feed on day 2 (average production in 24hr is 84ml).
Day 3-4: A baby of 3-4 days old usually has between 15-30ml per feed. On day 3 their maximum stomach capacity is around 30ml so you don't want to give more.
Day 5-6: Babies have volumes between 45-60 ml per feed.
First month (after the first week)
On average 60-90ml per feed, depending on how frequent a baby likes to feed and a mother's breast storage capacity (which is not the same as breast size!)
1-6 months
1-6 Months: on average 750ml/24hr
Isn't it interesting that the amount of breast milk babies consume between 1 and 6 months doesn't change?! Their growth rate slows down and the composition of breast milk changes as baby gets older. You can be sure they get what they need!
They drink around 90-120ml per feed, but this can be more or less depending on how frequently they need and want to feed.
Breast milk in a bottle
If babies are fed with a bottle they can easily take more than the amounts mentioned above. This doesn't say that they need more. Consider using a slow flow teat and have a look into 'paced bottle feeding' – a way of bottle feeding to emulate breastfeeding. Sometimes babies have had enough milk, but just have the need to suck for longer.
Infant formula
The amounts in the first week are generally the same as breast milk, because baby's maximum stomach capacity is the same.
A formula frequently used to calculate the amount per 24hr is: 150ml * baby's weight in kg. So if your baby is 5kg they should usually drink 150ml * 5kg = 750ml and when a baby is 8kg it's 1200ml.
Just remember, every baby is different so if this doesn't sound right or if you have any concerns, always check with your health provider.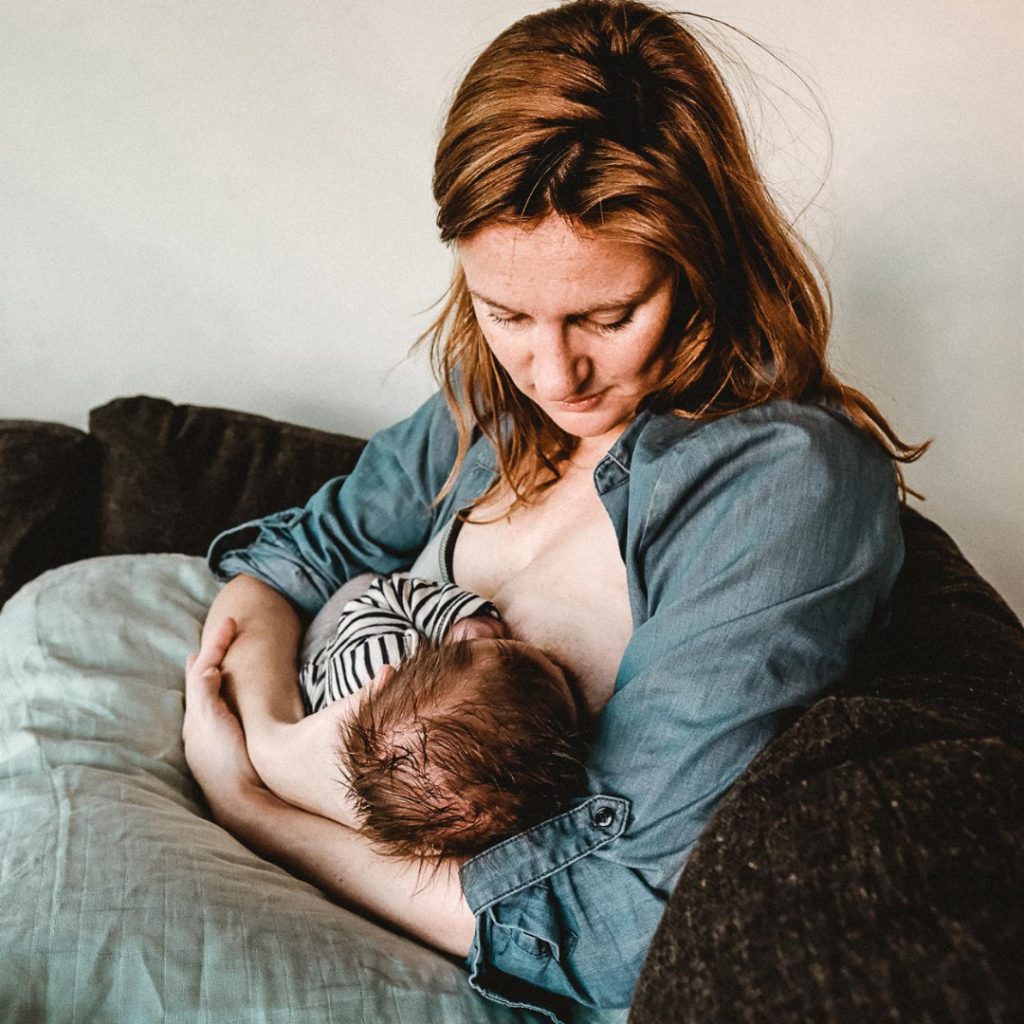 2. How do I know if my baby is getting enough milk?
With breastfeeding you won't be able to tell exactly how many ml your baby had, and that's completely fine. There are plenty of ways to tell if your baby gets enough by looking at their behaviour.
The signs your baby is getting enough milk:
Regular wet nappies: 5+ heavily wet nappies in 24 hours (from day 5 onwards), urine should be clear and odourless. No urates in their nappy after 72 hours post birth (Urates are pink/orange coloured crystals, normal during the first 3 days).
Regular soft poos, usually mustard yellow colour.
Good skin colour, muscle tone and bright eyes.
Steady weight gain, growth in head circumference and length (In the first couple of days after birth most baby's lose weight, and breastfed babies can lose up to 10% of their birth weight. In the first 3 months baby's gain is approximately 150-200g/week, then 100-150 g/week (3-6 months) and then 70-90 g/week (6-12 months).
Generally content (all babies have their fussy and unsettled moments!)
Concerns about low milk supply
Tied in with being concerned about how much their baby is getting and if it's enough, concerns around whether or not the breastfeeding mother is producing enough milk for their little one. I often hear mothers who are worried they have a low milk supply or low transfer. This can be due to one reason, or another, such baby behaviour. In the majority of cases, this is not the case and their baby is displaying perfectly normal behaviour.
These signs are not indicators of low milk supply or low transfer:
Long or short feeds (feeding time can range from anything between 5-45 minutes!)
Baby who wants to feed frequently or is cluster feeding (this serves to help your milk supply in those early days)
Not feeling the letdown reflex after a baby attaches to the breast (not all women experience this)
Not leaking (most women leak at the early days, but some stop leaking once breastfeeding has been established)
Soft breasts (your supply and baby's demand are probably perfectly balanced)
Fussiness at the breast (this happens sometimes, and can be due to any number of reasons)
If you have persistent doubt about your milk supply and your baby is not showing signs of getting enough, then speak to your Midwife, Lactation Consultant, Nurse or GP and they can help advise you.