Weaning your baby can be daunting, but it needn't be if you remember these three golden rules: 
Start by introducing vegetables first (pureed or as finger foods) before moving onto other foods including fruits, porridge, yoghurt as well as proteins including meat, eggs, lentils and fish.
Aim for your baby to be eating 3 meals a day by the time they are 7 months old (including a source of dairy or alternative at breakfast and then a protein source at lunch and evening meal)
Relax and role model, as then your baby will be more likely to relax and enjoy the weaning experience
I started weaning my baby one week before he turned six months old and initially we offered vegetables in a morning, once a day, before moving on to twice a day the following week. In week three I offered him oats with breast milk before moving to oat & coconut milk (as he unfortunately has cow's milk protein allergy, otherwise known as CMPA). By the time my baby was 7 months old we were on 2-3 meals a day and by 8 months we had our mealtime routine set.
Below are some of my top tips to help with weaning and I really hope you find them useful!
What is weaning?
Weaning is the gradual introduction of foods to a breast milk or infant formula fed baby, in order to expose them to a variety of different tastes and textures.
During the initial stages of weaning, the focus shouldn't be on how much your baby is eating, but rather getting them used to food and the idea of eating, as they will still be getting most of their nutrients from milk. As your baby eats more though, the proportion of energy from food will become more than that from milk.
When to start weaning your baby
In the UK mothers are encouraged to breastfeed exclusively for their baby's first six months of life. This is because breast milk helps to protect babies from infections and diseases, in addition to providing health benefits for the mother too. If mothers cannot breastfeed then other alternatives may be explored, for example using formula milk.
Weaning should start when your baby is around 6 months old, provided they can hold themselves steady in a high-chair (or for a few seconds when sat on the floor), are able to coordinate bringing objects to their mouth, and have lost their tongue-thrust reflex: This can be tested by placing a clean finger or baby spoon onto their lower lip; if they reactively stick their tongue out, then they may not yet ready to be weaned (as food would just be pushed out of their mouth!).
Weaning should start when your baby is around 6 months old, provided they can hold themselves steady in a high-chair.

Nichola
The following behaviours can be mistaken for signs of being ready for solid foods before six months: Chewing fists, wanting extra milk feeds and waking up in the night more than usual. These are normal baby behaviours and not necessarily a sign of hunger, or being ready to start solid food. Starting solid foods will also not make your baby any more likely to sleep through the night. Sometimes a little extra milk will help until they are ready for food.
Should you do anything before you start weaning?
As your baby approaches 6 months of age you'll be wanting to think about how you want to wean your baby e.g. are you going to offer purees alongside finger foods or are you going to follow a more baby-led (purely finger food) approach. Other things you may want to consider doing are letting your baby become familiar with the dining experience.
We set up our highchair and regularly popped our baby in it for a little play time to increase his familiarity with this new surrounding. We gave him either a silicone cup, spoon and/or bowl to play with (strapped in and supervised) or we filled the tray with his favourite toys; a highchair (suction) spinning toy, a toy fox and a selection of teethers.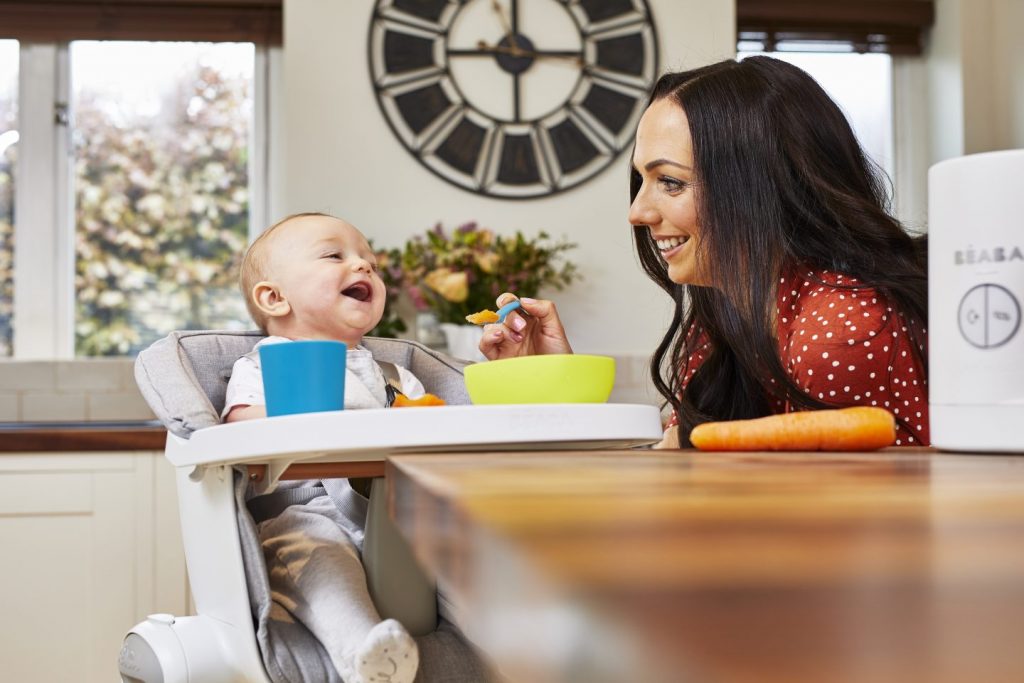 How to start weaning your baby
From around 6 months of age your baby can be offered foods of a pureed or well mashed consistency, progressing to foods with some lumps at around 7 months, as well as soft finger foods; for example cooked pieces of broccoli, parsnips, peppers, courgette and avocado, as well as banana, kiwi and pineapple. Starting with green vegetables such as broccoli, kale and spinach can be helpful in order to encourage acceptance of bitter and sour tastes. Before 6 months babies, have become very familiar with sweet breast or formula milk, meaning they will often have a natural preference for sweeter foods such as fruit.
Following on from the introduction of, and alongside, vegetables and fruit, you should offer your baby starchy foods such as porridge as well as mashed potato and thinly cut pieces of toast, in addition to soft pieces of foods rich in iron and protein, for example; slow cooked beef, dark chicken, turkey, fish (with no bones), eggs and lentils. Full fat, unsweetened and pasteurised yoghurts may also be offered however full fat cow's milk shouldn't be offered as a drink until your baby is 12 months old; it can however be used in cooking, on cereal or to mash up food – your baby should continue with either breast milk or formula milk as their main drink until they are at least 12 months old. Baby rice can be useful to thicken purees if they come out too runny.
Initially, babies need only to be offered food once a day, but you should build up to three times a day to mimic your own three meal a day meal pattern around 7 months of age – they will still be having their usual milk between meals at this stage. By the time babies are around 12 months old they should be eating at least three small portions of healthy family meals a day plus 2-3 small snacks in between if needed. If foods are rejected, and the bitter vegetables may be, at least initially, keep offering the food as it can often take several attempts for your baby to eat and enjoy it.
Initially, babies need only to be offered food once a day, but you should build up to three times around 7 months of age.

Nichola
What do weeks 1 to 3 of weaning look like?
We started weaning the Monday before our baby turned 6 months old; this is because I wanted to introduce some veggies first before the more allergenic foods such peanut butter and egg (these should be introduced in most babies after their first tastes, one at a time and at least 3 days apart to monitor for symptoms of an allergy).
Below is what we offered our baby after his morning milk feed. I prepped most of his foods either the night before or on the morning and froze leftovers. You can however offer food at any time of day; it's best to pick a time though when your baby isn't overly hungry or full or tired.
All of the below were steamed (apart from the avocado) and pureed (blended).
Week 1 of weaning
MONDAY – Broccoli
TUESDAY – Spinach ?
WEDNESDAY – Avocado
THURSDAY – Cauliflower ?
FRIDAY – Carrot
SATURDAY – Courgette
SUNDAY – Skinless Sweet Pot ?
Week 2 of weaning
MONDAY – Broccoli
TUESDAY – Cauliflower ?
WEDNESDAY – Kale | Avocado
THURSDAY – Parsnips ?
FRIDAY – Beetroot | Bolognese ?
SATURDAY – Peanut Butter | Banana?
SUNDAY – Avocado | Beetroot
Week 3 of weaning
MONDAY – Sweet Pot & Broccoli
TUESDAY – Cauliflower & Carrot | Asparagus
WEDNESDAY – Oats with Breastmilk Porridge | Asparagus
THURSDAY – Cauliflower & Courgette | Cucumber & Banana sticks | Chicken Soup  ??
FRIDAY – Tiny amount Egg  | Fish & Spinach | Turkey, Tomato & Aubergine
SATURDAY – Brussels sprouts | Carrot sticks ?
SUNDAY – Mashed tinned pear ? | Bolognese
Do you need to give your baby drinks?
Regarding fluid, it's good practice to offer a small amount of water (no more than 50ml at a time so the cup doesn't become too heavy) with a meal from a free-flowing cup to teach your baby how to sip.
If your baby is under 6 months old the water should be cool-boiled. Breast-fed babies should continue to be offered regular breastfeeds but you may want to encourage a routine in order for weaning to progress and you can still offer a cup at mealtimes to allow practice and skill development with cup drinking.
Juices should be avoided (even natural ones) as they can contribute to tooth decay and after 12 months of age babies should be transitioned off a bottle (they should be using a cup only).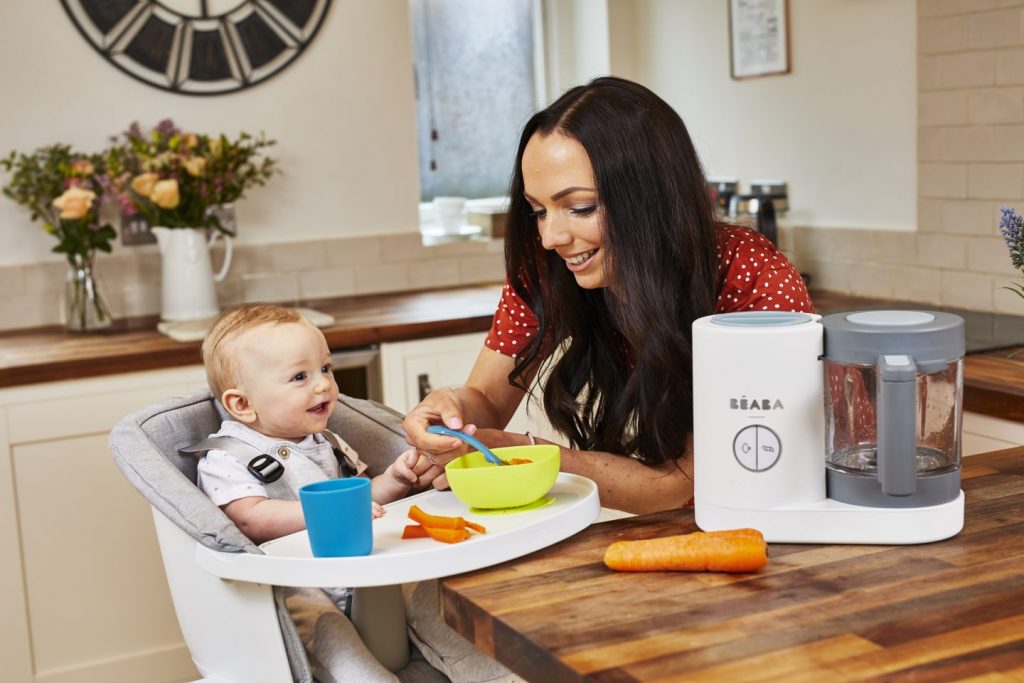 Should you avoid any foods whilst weaning?
To reduce the risk of choking babies shouldn't be given whole grapes, hard and/or small pieces of fruit or vegetables such as raw apple and carrot (these should be grated initially), whole nuts or popcorn.
Babies should also not be given honey before the age of 12 months, as although very unlikely, it may contain a bacteria which leads to infant botulism, which can make them extremely ill. You shouldn't add any sugar or salt to any of their foods either; remove their food portion from the pan first if you wish to add these to your meal.
Sugary foods such as biscuits and cakes are not recommended and salty foods such as chips, crackers, crisps, sausages, bacon should be avoided. Be mindful of other foods with added salt such as bread and cheese too – although these can be offered as part of a varied weaning diet.
Do you need to give your baby supplements?
Breastfed babies from birth require daily vitamin drops containing 8.5 to 10mcg of vitamin D. Formula fed babies only require this if they're having less than 500ml of formula a day (as it is already fortified).
From the age of six months, babies should be given vitamin drops containing vitamins A, C and D, unless, as mentioned, they're having 500ml of formula a day. These vitamins should continue until children are five years old.
We hope you found these tips on how to start weaning your baby helpful. This article was first published Mummy Nutrition. You can read the original article here.