I will always remember what my mother told me about breastfeeding when I said to her I wanted to do it for my own baby. She said, "It will be tough to begin with but you'll get the hang of if you persevere". Yes, it was great advice but it turned out to be the understatement of the year! I really had no idea the difficult road I'd travel to make sure my son was breastfed.
I always knew I wanted to breastfeed
Before I was even pregnant, I knew I wanted to breastfeed, in my mind, it was the best nutrition for baby, what nature intended and also free. During pregnancy I attended breastfeeding antenatal classes to ensure I was informed and prepared because I knew from friends' experience that it wouldn't be a walk in the park. I was so confident in my ability to breastfeed that I didn't buy any formula. I did, however, have bottles and two breast pumps, a manual and electric, which were gifted to us (thankfully!).
When packing my hospital bag, the only thing feeding-related that I packed was nipple cream and breast pads. As far as food was concerned, all I needed was my boobs.
Labour was long and complicated
When labour came, I didn't think much about feeding my baby, I was more concerned about getting my baby out. Our labour was long and complicated and ended with failed forceps and a category 1 c-section. Finally, I gave birth to my little boy, Zander.
Both myself and our little bundle ended up with infections. I had a womb infection due to the c-section and Zander had an infection due to my waters being broken for so long. After they stitched me up and wheeled us out of theatre, our midwife positioned Zander so he could feed.
I had a womb infection due to the c-section and Zander had an infection due to my waters being broken for so long.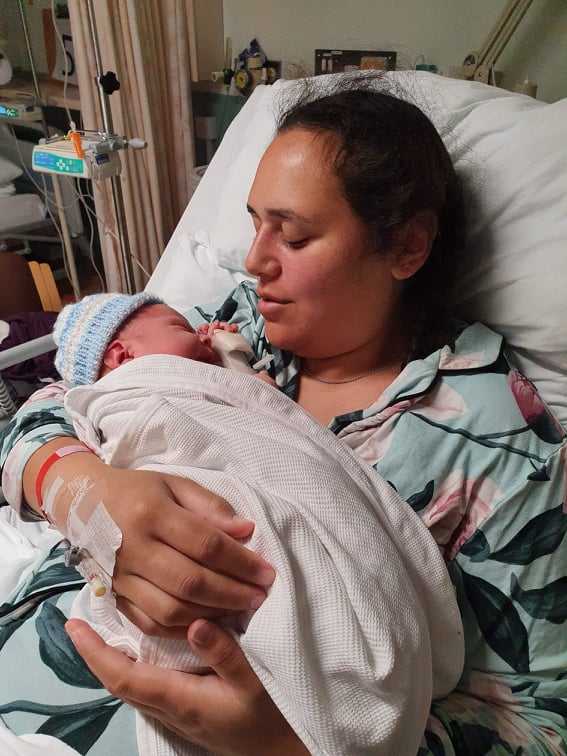 The first few feeds
Zander latched perfectly and successfully completed his first feed. Unfortunately, I was a bit delirious at this point so I'm going on my partners recollection. A few hours passed and we were wheeled up to the labour ward to recover.
Eventually, it came time for Zander's next feed. I was in a lot of pain and could not move to pick him up (the womb infection had not been diagnosed at this point). A midwife came to pass him to me and I tried to rouse him to feed. He would not wake. This was our first issue.
I was not prepared for my baby not latching on for a feed
Due to his infection and antibiotics, Zander would not wake up. We tried everything, tickling his feet, stripping him down, blowing on his face at one point I also tried wetting his face with water wipes but nothing would keep him awake for longer than a few seconds. He would occasionally latch and latch perfectly, but would not suck as he was so sleepy. The midwives were very responsive and quickly showed me how to hand express my colostrum onto a spoon so they could spoon-feed him. This was how our first day in hospital went, not the breastfeeding start I had expected. I just wasn't prepared for my baby not latching on for a feed. I was kept in overnight so I was confident that with the help of the staff on the ward, we would get it nailed before I went home.
Shift change came and went for the nightshift and during one of the night feeds, the head midwife was helping me with a spoon feed and explained to me that due to Zanders infection, he needed more food. She said he needed topped up and this could either be donor milk or formula. At this point, I had never heard of donor milk so I opted for formula. She asked me what brand I would prefer and I honestly had no idea. I had not researched formula at all because 'I was going to breastfeed!'. I chose SMA because it was the only brand I had heard of out of the list that she rattled off and that's what he was given. We continued to give him my expressed colostrum via spoon and formula via cup so as to avoid nipple confusion until my milk came in.
My milk came in on day three and we were still in hospital
My milk came in around day 3 and it came in in an abundant supply which I was thankful for. We were still in hospital at this point due to our infections so the breastfeeding consultants showed me how to use an electric breast pump. I felt a bit like a cow to begin with as I had never used a pump before, but I quickly got the hang of it as I was having to do it at every feed to mimic a newborn feeding pattern.
As well as learning to use the pump, at every feed we would try to wake him and get him to feed from the boob but we had no success. We did a lot of skin to skin and due to the severe pain I was in with my infection, and constantly being half naked for skin to skin I lost all sense of dignity when it came to the doctor rounds. I didn't care who saw my bits anymore.
Over the next few days of us being in hospital, the breastfeeding consultants tried us with nipple shields but again had no success. Because baby was not latching for a feed his cup feeds changed to bottle feeds as he was taking more milk and would be going home eventually.
I was confident we'd be able to master breastfeeding once we got home
We were finally discharged after being in hospital for six days. I was sent home with antibiotics and painkillers. Zanders infection had thankfully cleared up completely. I was feeling confident about feeding him once we were home. I knew we had an electric pump in the house. I knew how to express and we did have some bottles. The hospital had also sent us home with my expressed milk, nipple shields and a couple of their newborn bottles plus the breastfeeding support workers were going to contact me in a couple of days. All in all, although we had not managed to get him on the boob yet, I was confident that I would be able to feed my baby.
As soon as we got home, I set to work on assembling the electric breast pump, but in my haste I did not attach the duckbill valve and therefore the pump did not have any suction. I was tired, in pain and overly emotional so naturally I burst into tears. I could not figure out why the pump was not working and panic set in that we wouldn't be able to feed our little one. My partner calmed me down and reminded me that we had the manual pump. I assembled that pump successfully and managed to express. Over the next two days, we continued as we had been in the hospital, skin to skin, trying him on the boob, heating up milk, feeding by bottle, expressing, storing milk and sterilizing bottles and pumps at every feed to ensure I was mimicking a newborn feeding pattern.
I could not figure out why the pump was not working and panic set in that we wouldn't be able to feed our little one.
Nipple shields and dehydration
The breastfeeding support worker came out to see us on the Monday and she helped us with the nipple shields. By the time she left, Zander was sucking on the nipple shield. He wasn't getting much milk but at least he was sucking. We continued with our feeding routine at every feed for the following two weeks. During this time, the breastfeeding support worker said we were feeding him sufficiently with the nipple shield but the midwives were saying he was dehydrated due to us not feeding him enough. This conflicting advice caused me even more stress because I didn't know what to do. Should we give him more by bottle and delay his return to the boob or do we continue feeding him with the nipple shield but risk him becoming dehydrated?
In the end we upped his feeds via bottle but continued to try him on the boob with and without a nipple shield at every feed. The night feeds were definitely the worst. Having to go through the rigmarole multiple times a night definitely took its toll, and my partner was ready to give up and switch him to formula but I point blank said no. I was determined that I was going to breastfeed even if that meant exclusively feeding expressed milk via bottle.
We turned a corner when Zander was three weeks
Then when Zander turned three weeks old, I was doing the normal feeding routine, trying him on the boob before giving him the bottle and for whatever unknown reason, he latched without the nipple shield and fed perfectly!
Although I was over the moon, I didn't get my hopes up too high. I just decided to take each feed as it came. But from that moment, it just clicked and he has been a boob monster ever since!
The weeks that followed were almost as rough as our initial three weeks of expressing because we now had latching issues. Zander had been used to a bottle and nipple shields for so long that it took us a few weeks to get the hang of the latch so I was in agony at every feed until we cracked it. I remember saying to my partner that the pain is like having your nipple pierced over and over again and that was not an exaggeration!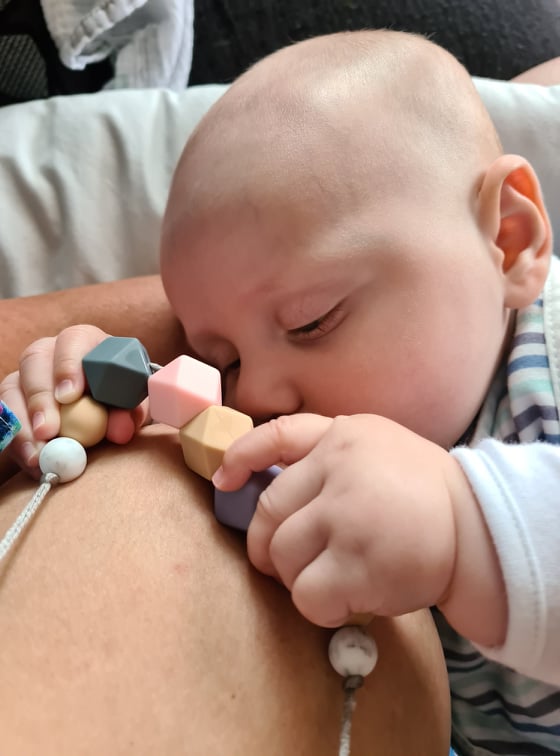 Zander had been used to a bottle and nipple shields for so long that it took us a few weeks to get the hang of the latch so I was in agony at every feed until we cracked it.
It felt like every week I got blocked ducts
Then came the blocked ducts and mastitis. I'm still not sure why I was so prone to blocked ducts, my reasoning is that because we had expressed for the first 3 weeks, my milk supply had to regulate itself again once Zander was feeding from the boob. I had blocked ducts every week until Zander was 12 weeks old.
Every time I felt a blockage I would do all the recommended remedies like massaging and having Zander feed in different positions but it would often turn into a red hot enflamed patch and twice I ended up on antibiotics for mastitis. The pain was so intense that although I was so overjoyed that Zander was feeding from the boob now, I would absolutely dread feeding him because it was so painful. I would just sit there feeding him with tears streaming down my face because of the pain. Thankfully week 12 was when I had my last blocked duct (touch wood) and we have been boobing without any issues ever since.
I have a boobie monster now
Zander is now almost 5 months old and he is my little boob monster. We occasionally give him a bottle of expressed milk when I am at work for my keeping in touch days but other than that he boobs at every feed. I was very apprehensive about giving him a bottle after the issues we had to begin with but after the first few bottles, he takes them no bother now and can easily switch from bottle to boob during feeds.
When I was pregnant, I always assumed I would breastfeed until he was six months, but now that we are actually boobing, and after the journey we had to get to this point, I am in no hurry to wean him off the boob. I remember speaking to a colleague in work when I was pregnant and she said she was still breastfeeding her 1 year old whilst being at work full time. I was shocked when she said this, I blurted out the following questions: 'do you express at work? Do your boobs not leak during the day?'. Her reply was that her son only fed at night before bed and her body knew that. So her boobs would prepare milk for his bedtime feed and come 7pm she would know it was time to feed him. I was in awe of the human body at this point, it's just so clever! I hope to do the same. At the moment my weaning plan is for Zander to wean naturally, the thought of taking his comfort boobie away from him before he's ready breaks my heart.
My mums advice really did ring true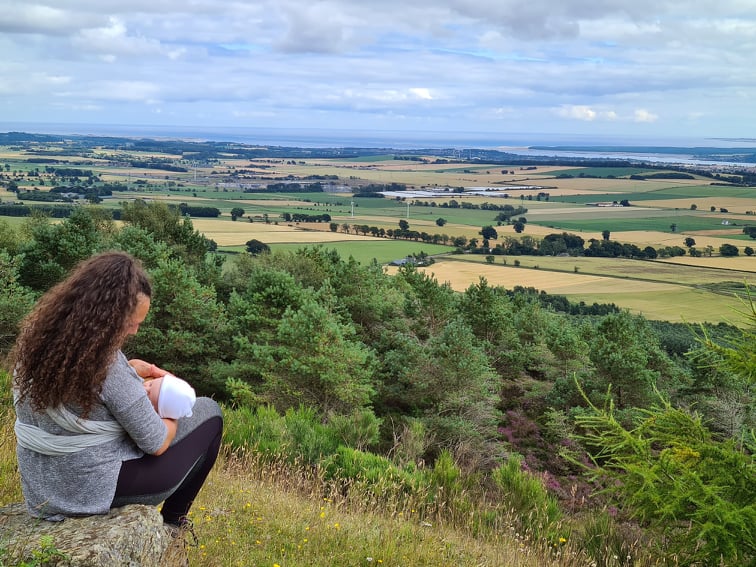 'It will be tough to begin with but you'll get the hang of if you persevere' – although this statement is true, 'tough' does not come close to describing how our journey was. I remember the breastfeeding support worker saying to me that no one will understand how hard it is unless they have been through it and those words were so powerful. Though I do have to agree that perseverance is key to establishing breastfeeding.
I hope this story helps anyone out there who is struggling with their breastfeeding journey. It is definitely not a walk in the park for everyone and there are so many variables that can affect your journey from your delivery to the shape of your nipples. There is a lot of support out there for breastfeeding so don't be afraid to ask for help, you got this mama!
Would you like to inspire and empower other mamas by sharing your own breastfeeding story? Sign up today to add your story! We'd love to hear from you.