Without completely giving away my advancing years, I'm thankful that I didn't have to navigate teenage life lip-syncing to the latest TikTok trend or dealing with an ill-advised fringe and plastic NHS specs immortalised as my digital footprint.
Social media is mostly a positive in my life now, but since starting an Instagram account to help provide support to those who are feeding older babies and toddlers (a relatively niche area that still seems to be woefully lacking amongst the many accounts offering support with early breastfeeding), I've been exposed to its murkier side in a way that's made me question the impact it can have on our breastfeeding experiences.
Social media has helped normalise breastfeeding
Charlene is a mother of six and has been breastfeeding for nineteen years. When she started breastfeeding her youngest in 2003, she relied on a booklet given to her in her antenatal class and advice from a midwife and health visitor. Her Mum, an '80s breastfeeder, was another source of advice, but this often conflicted with Charlene's own instincts to breastfeed past six months or to ignore advice to substitute breastmilk with formula when her baby was only two days old. Her experience highlights some of the many positives of social media as she describes discovering Instagram with subsequent children as a 'gamechanger'. 'My eyes have been opened and I can feel and want to be part of normalising breastfeeding' she explains, describing how like-minded Instagram accounts have helped to provide support that has sometimes been lacking from family, friends, and even medical providers.
Knowing there were others like her out there has helped her to become confident in her breastfeeding experiences, and she believes that social media is a great tool that can be used to educate, establish connections with others and help women find the support and information that many, who may often be struggling with the early days of motherhood, can benefit from.
When I asked those who follow my account about the positives of social media when breastfeeding, they echoed many of the same sentiments. Some had never seen women breastfeed in real life before and were searching for a sense of community and a place to feel that they weren't alone. This was a comment especially made by mothers of toddlers, who valued the reassurance and perspective of observing others who were breastfeeding older babies. 'Normalising' was continually used to describe how they felt this validated their own experience, and it was also a way for women to gain confidence in their approach to feeding their children. Many mentioned the free resources and support that were on offer, and some felt this was better than the advice they had been given by professionals because they sometimes held 'outdated views.'
Seeing celeb mums breastfeeding helps inspire
Celebrity mums and influencers who breastfeed have also been credited as a source of inspiration to others and in a survey conducted by Lansinoh, 49% agreed they felt more comfortable about breastfeeding after seeing celebrities do it. The fact that there is often a public backlash against some of these women however, suggests there is a long way to go before public discussion about breastfeeding becomes normalised enough for most women to feel comfortable sharing their own breastfeeding content. The Lansinoh survey, for example, found that only 10% would feel comfortable sharing photos on social media of themselves breastfeeding even though 30% would like to do so.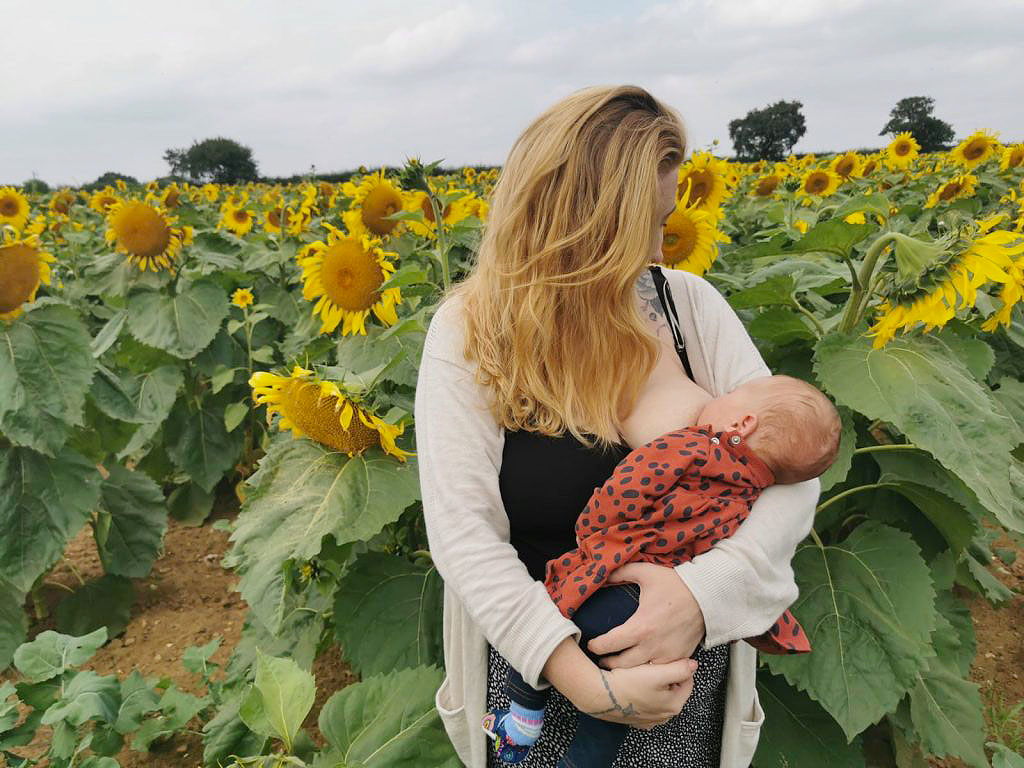 April Robson has recently celebrated breastfeeding her daughter Willow for a year and says that she posts pictures of herself breastfeeding because 'the more it's seen, the more normal it becomes.' She also finds that it helps her own self-confidence, as unlike breastfeeding in public when a comment or stare can knock her poise, when online, the breastfeeding community she has gathered around her will come together to 'build me back up and remind me that I really do not care.'
Can we trust all 'breastfeeding experts' online?
There are the downsides of social media of course, with some of the most common issues centred around the concept of trust. 'Anyone can say anything without reliable sources to quote' says elepet87 and kathyjanette_ warns of 'influencers doing Elvie pump ads without explaining oversupply and possible dangers.' Having to sift through the noise and find people you trust can be exhausting for new mums who may be feeling overwhelmed. Anyone can call themselves a 'lactation consultant' but it is worth exploring the credentials of those you are taking advice from, especially with more complex breastfeeding issues.
There are International Board Certified Lactation Consultants (IBCLC) (breastfeeding's highest form of qualification) who offer free resources and advice but there are others (like me!) who could be speaking from experience or from the research they may or may not choose to do. I have always been open about my own lack of specific breastfeeding qualification (although being able to speak authentically is one of the reasons why I am currently completing a Lactation Counsellor course with Childbirth International), as knowing that the information you are getting is evidence-based and reliable can sometimes be stressful and confusing if this isn't made clear. In some cases, you really do need a personalised approach and without a face-to-face consultation with a professional you might end up following advice that isn't suitable for your situation.
The sexualisation of breastfeeding on social media
Trusting that others are who or what they seem can be tricky on the Internet, and the darker side of social media can often rear its ugly head when the topic of breastfeeding arises. A recent article in Forbes magazine suggests 'breastfeeding mothers are being sexualised on social media' and details how 'intimate moments with children are being taken out of context or used without consent on pornography websites'. Mitigating for this can be stressful, and mums like April who choose to freely share and embrace posting breastfeeding images have had to deal with men messaging them and sexualising their posts. My personal approach to this is to police who follows my account and actively block anyone who looks like they are there for titillation. A bearded old bloke presumably has no need for weaning support after all?
Trusting that others are who or what they seem can be tricky on the Internet, and the darker side of social media can often rear its ugly head when the topic of breastfeeding arises.
Danielle Facey aka @thebreastfeedingmentor takes a measured response, commenting that 'unfortunately, the hypersexualisation of women's bodies means that innocent breastfeeding images and videos are inevitably being shared for untoward and even illegal purposes online. It makes me aware of the content that I share, but ultimately nothing will change unless some of us are willing to try and change it. The only way to normalise breastfeeding is for it to be seen everywhere, not hidden away.'
'Social media' encompasses a huge (and growing) variety of platforms, and some may feel more unsafe than others. Facebook groups are popular as you can join closed groups that are often moderated in terms of the contributions made as well as who is joining them. Instagram's 'nipple ban' means that useful breastfeeding content such as demonstrating a good latch for example, is often banned, but it may feel like a safer place to share content, whereas TikTok is a 'scary platform' according to Danielle, who explains that 'the way the algorithm works, content gets pushed to a wide range of different types of people.'
Although many of these viewers would probably think twice about coming up to you in a café while you are quietly breastfeeding a baby, trolling is unfortunately an inevitable negative on the internet with many emboldened enough to put women down, suggest their own backward perspectives on breastfeeding, or perhaps worst of all, sexualise the whole experience.
April finds that the comments that bother her the most are the ones that sexualise her photos: 'I've been called a tease before and it made me feel gross.' Pointing out the obvious doesn't often work, with responses ranging from 'what do you expect when you post pictures of your tits' to 'it's about time you gave your husband your body back and let the baby have a bottle.'
We clearly have a long way to go before the fetishization of breastfeeding is a thing of the past.
Dealing with online trolls
Interestingly, in Danielle's experience, some of the worst trolling comes from women, often of her mother's generation. Her own theory is that their aversion to her open nursing of her three-year-old son comes from 'their own insecurities and traumas surrounding breastfeeding and the objectification of women'. Although it could be tempting to block and delete, Danielle often prefers to engage with these kinds of comments, bravely questioning their position in the hope that it 'could make them think differently.'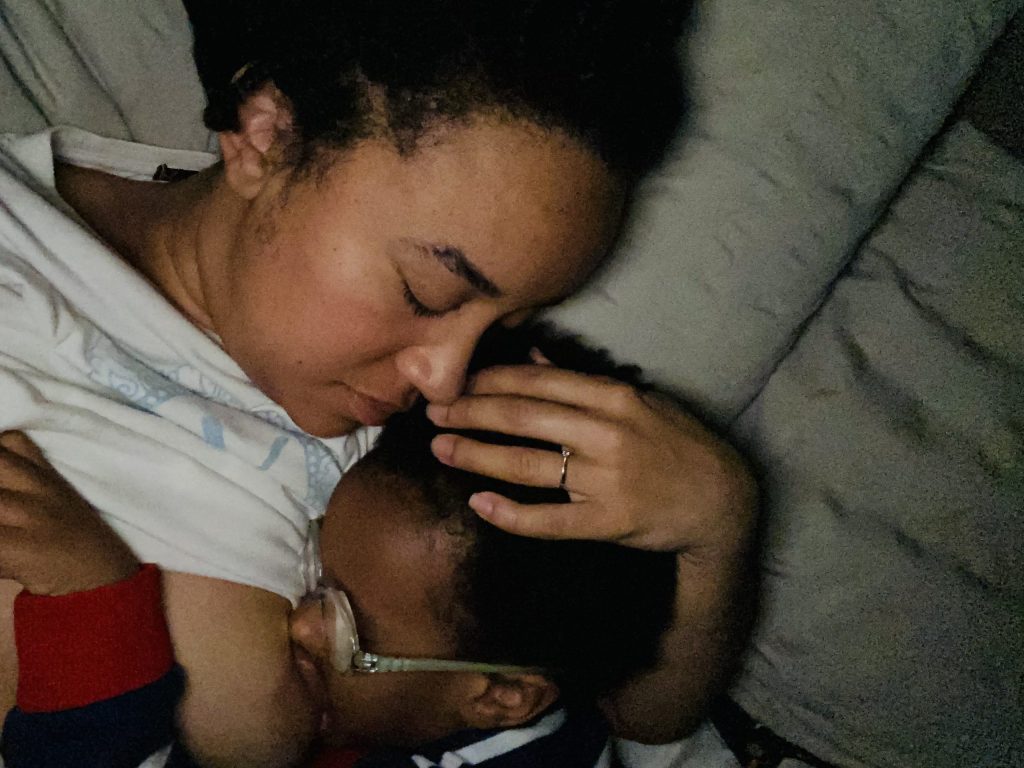 Social media is clearly a powerful tool in educating, informing, and allowing breast and chest feeders opportunities to find supportive communities that can make a huge difference to their feeding experiences. More, however, could clearly be done to make social media a safe space for this to happen. Danielle explains that 'social media is as powerful or as destructive as we allow it to be'.  Although it took her a year to develop skin thick enough to combat the abuse she often receives, she feels that 'the cause is too great, and the message of empowering breastfeeding moms is too important to be deterred by ignorant keyboard warriors.' 
Danielle explains that 'social media is as powerful or as destructive as we allow it to be
So, let's use social media as a positive force to empower and support each other. If you feel like you can, call out the trolls, question the information you find and ensure it is evidence-based and from a reputable source.  Protect yourself and protect each other. Maybe one day, sharing a 'brelfie' will be as unremarkable as you feeding your baby on a busy bus.  
Would you like to share your breastfeeding
story? Sign up today to add your story! We'd love to hear from you.