Apologies if this doesn't sound like a positive birth. It wasn't. I've submitted two formal complaints to the Trust I gave birth in and had some counselling post. I'm not even sure why I'm writing this. My son has been an endless source of joy and positivity since his arrival (also of guilt and anxiety). He has inspired me to write, to share with and meet other mums and to try to find the sometimes hard to find silver lining.
My husband and I were really lucky, we conceived almost straight away. His isolation with COVID had ended and I asked him to buy me a pregnancy test. He was sceptical but I just knew I was pregnant. Seeing it confirmed was something else, I was elated. I had always wanted to be a mum. My husband however, probably would've enjoyed trying a little longer…
My pregnancy was straightforward until our 20 week scan
I would say my pregnancy was straightforward until our 20 week scan. I was nauseous and tired but otherwise well and able to keep working as a children's nurse doing long shifts. My team are so supportive. I loved our 20 week scan, we already knew we were having a little boy and being able to call him William and see him for such a long time was amazing. At the end of our scan the sonographer checked my placenta and asked if she could perform an internal scan, my placenta was close to my cervix. Whilst I emptied my bladder my husband asked what this would mean and he was told at worst a C-section.
My husband was jubilant after our scan and I had to tell him that things were not ok.
After the ultrasound he was sent to wait outside while I had a discussion with a midwife. I was told that I had grade 3 placenta previa. This meant I was on pelvic rest and if he was born early my placenta would come first endangering his life. I was told that if I bled this would be an emergency. My husband was jubilant after our scan and I had to tell him that things were not ok. I was told that there was a 90% chance that we'd need a C-section and that we'd have a scan at 32 weeks.
I felt like something had been taken away from me
William became an 'if' not a 'when'. I had milestones, at 24 weeks he was viable, at 28 weeks he might not require intubation. We decorated his nursery earlier than expected and I was signed off of clinical work due to the risk of injury. I didn't want to go to NCT classes as I didn't want to hear about vaginal deliveries and breathing techniques. My dream of a natural labour was shelved and whilst I smiled and tried to be excited I felt like something had been taken from me.
I was admitted to hospital with a viral chest infection which I struggled to recover from. I was signed off of work to allow me to rest and avoid risking premature labour. The nesting I could've done was completed. The clothes were washed and the Moses basket was made. I just had to wait and hope. My 32 week scan felt like a lifetime away. I had a small bleed and felt like I'd failed my son already.
At my 32 week scan my husband, consultant and I were shocked to learn that my placenta had moved as my bump had grown. Now a vaginal delivery was possible! I felt horribly unprepared. I'd always been in awe of breastfeeding mums and I knew that when it was safe I wanted to harvest colostrum. I signed up for a course with the positive birth company and enjoyed the guided relaxation with my husband.
We put together a birth plan
I wanted to be ready for labour so Lewis and I made a birth plan and I had visions of a water birth. Saying that, as a nurse I wasn't averse to medical intervention as that felt like my comfort zone, I understood that. I just didn't want anything that would keep me in hospital unnecessarily. I harvested about 50ml of colostrum and was convinced that as I was a dairy cow already that breastfeeding would be easy and satisfying. We even did regular perineal massage which was not the most fun experience!
At our 38 week midwife appointment I wasn't engaged and it looked like William was going to keep us waiting for a while. We walked everywhere and I bounced like a rabbit on my birth ball. One Sunday (I was 38+6) we went for a long walk around Calke Abbey and cooked a curry for dinner. It felt ridiculous but we were so excited to meet our boy. I woke up at 02:45, I thought I'd wet the bed, and then again a minute later another gush of fluid.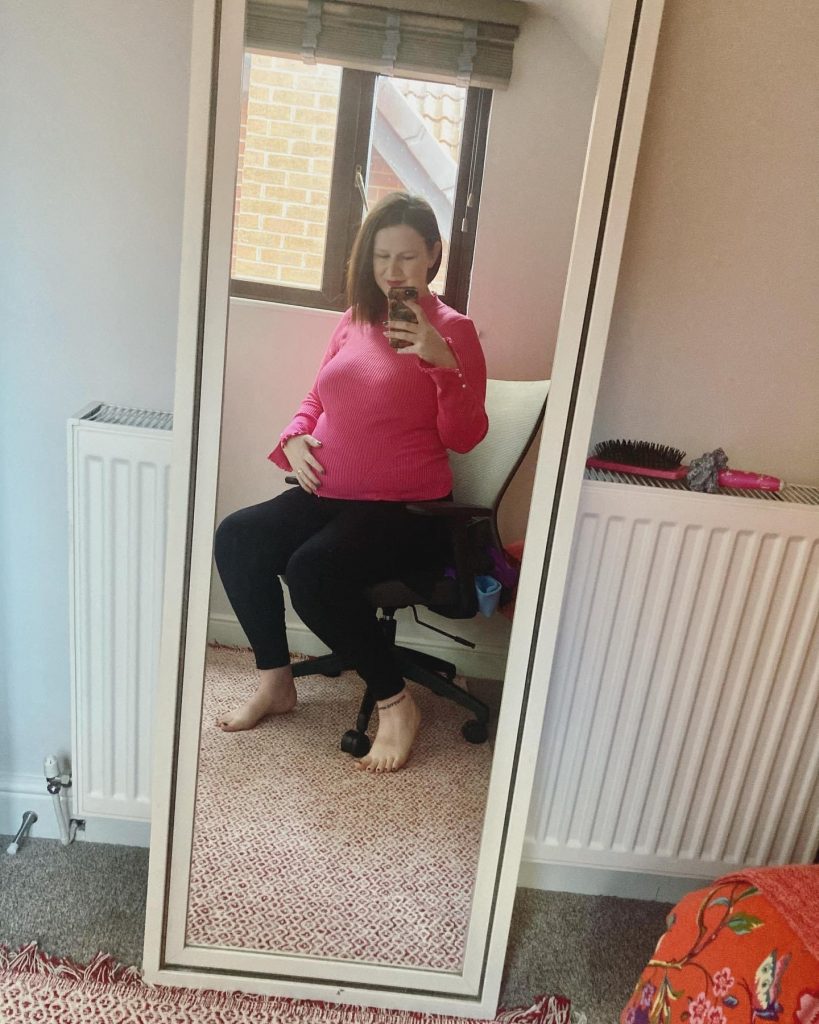 We were sent home and told that if labour hadn't started within 24 hours that we would require induction.
We made our way to hospital
I apologetically called the triage unit and we made our way into hospital. I was fully expecting to be told that this fluid was urine. When I handed the midwife a sample of water with what I thought was toilet paper in it (SO GROSS), I was told that it was vernix and that my waters had broken.
We were sent home and told that if labour hadn't started within 24 hours that we would require induction. We went home and randomly I made Lewis clean the kitchen cupboards in preparation for our arrival. Then we walked around the park to try to get things moving however William seemed pretty comfy and unwilling to make his arrival without assistance. From here things became complicated. The same evening we called the maternity advice line as we had barely felt William moving and we attended the triage unit again about an hour later.
I was put onto the CTG, and the decision was made to admit us to the antenatal ward. I was left unattended until I had a set of observations at approximately 06:00. There were no additional checks made on my baby despite the team being made aware I had ongoing reduced foetal movements. I was anxious but excited, I would meet my son that day.
Reduced movements were becoming a big concern
During morning handover we were told that we were awaiting an induction bed. We had another CTG monitor at about 09:00 William was fine but still had reduced movements. When we saw the consultant at approximately 10:30 she was concerned about the continuing reduced foetal movements and said that she felt that induction of labour was a priority. At approximately 11:30, we were taken to labour suite to start the induction process – much longer than the originally planned 24 hours. As a nurse I was starting to become worried about the lack of movement and the increased risk of sepsis. I was trying to stay positive.
When we arrived on the labour suite I was told that there was an issue with my blood and that I would need a sample analysing to ensure that I had blood available in an emergency. Induction of labour is not started in the Trust without blood available. Induction via a hormone drip was started and I started to get excited again, my son was going to be born. I was on my journey to becoming a mummy. A water birth may not have been possible but ultimately I would get to meet William.
My induction had to be stopped
25 minutes after induction had started it had to be stopped, there was no blood available in the hospital to transfuse me with, if I bled it would be serious. Samples needed sending to a specialist unit and would take hours to return. I was tired and angry and worried, this could've been avoided if procedures had been followed but they hadn't been.
I started having irregular contractions that night and got very little sleep, worrying about sepsis, worrying about my son who I was already failing. The next morning blood had arrived and we got the green light to start induction. It was a struggle to get comfortable whilst labouring as I was restricted by the drip and from monitoring. I had been difficult to get a drip into so I couldn't move around as I wanted to. I just wanted to sit on the toilet as the position was comfiest but this meant disconnecting the monitoring which was not advised as William was showing signs of distress.
I was now 10cm dilated
My midwife was phenomenal and supportive, however I was exhausted from lack of sleep for three consecutive nights and opted for an epidural to attempt to get some rest. Post epidural, I was having rigors and had an extremely high heart rate as did William. On a vaginal examination I was found to be 10cm dilated. The decision was made to start the sepsis bundle and administer IV antibiotics and then push straight away.
After approximately 30 minutes of pushing I was advised by the team that forceps would be the safest method to deliver him, he wasn't passing through the birth canal (forceps were the only thing I had expressly written I was against in my birth plan). My midwife pulled the emergency buzzer and the room filled with strangers. I had an episiotomy and then a forceps delivery, my midwife made sure to stop the team and allow me to feel my son's head as he crowned which I really appreciated. I then delivered my son at 17:56 and he was put straight onto my chest.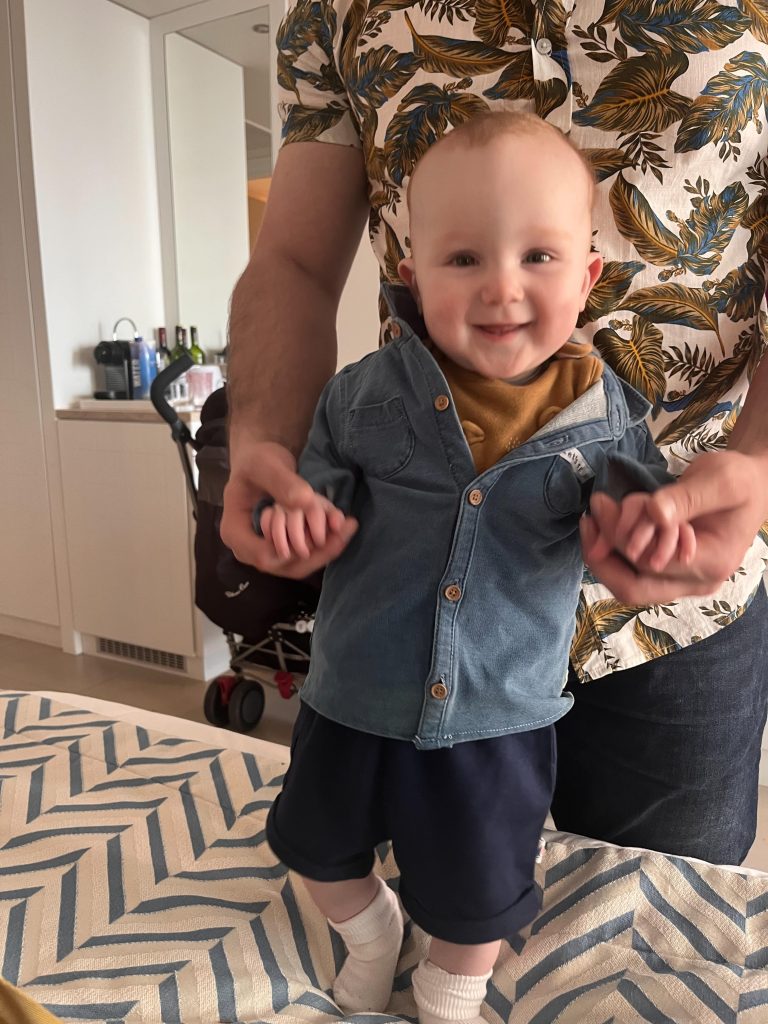 My first words to my new son as a first time mum "I'm sorry". I had failed him…
As soon as my son was born I apologised to him
While holding him I apologised to him. My first words to my new son as a first time mum were "I'm sorry". I had failed him. I couldn't deliver him properly and because of maternal sepsis he would need IV antibiotics. Whilst I had an infusion to stop me bleeding my son was taken away from me to have bloods taken and a cannula inserted. My golden hour was spent holding my son and being stitched up.
I attempted to make William latch but he wasn't able to. We were left for approximately 6 hours until my husband went to find a midwife. I was told that having big boobs would make it hard to feed. I gave William some colostrum and then the midwife latched him on.
I found breastfeeding challenging. It took a long time for William to latch and he would become upset waiting to feed. I suggested to Lewis that we gave William some colostrum from a syringe to satiate him to make latching easier only to be told that it had defrosted on labour suite. The 30ml we'd bought in from home would have to be discarded. I was done, I wanted to get home and never go into hospital again. I went home having received minimal support.
At home, I quickly became overwhelmed
At home I was hit by hormones and milk. I felt like a cow, milk was in abundance but I couldn't feed my son. I could feel his shoulder blades and his urine was concentrated.
I felt like a failure despite being told by the community team that I was amazing. They latched him on and left. So I called my mum. She told me I was amazing, she watched me birth him, she told me when he wasn't latched properly and buoyed me up. I spent a day crying with my boobs out and she helped me feed my son.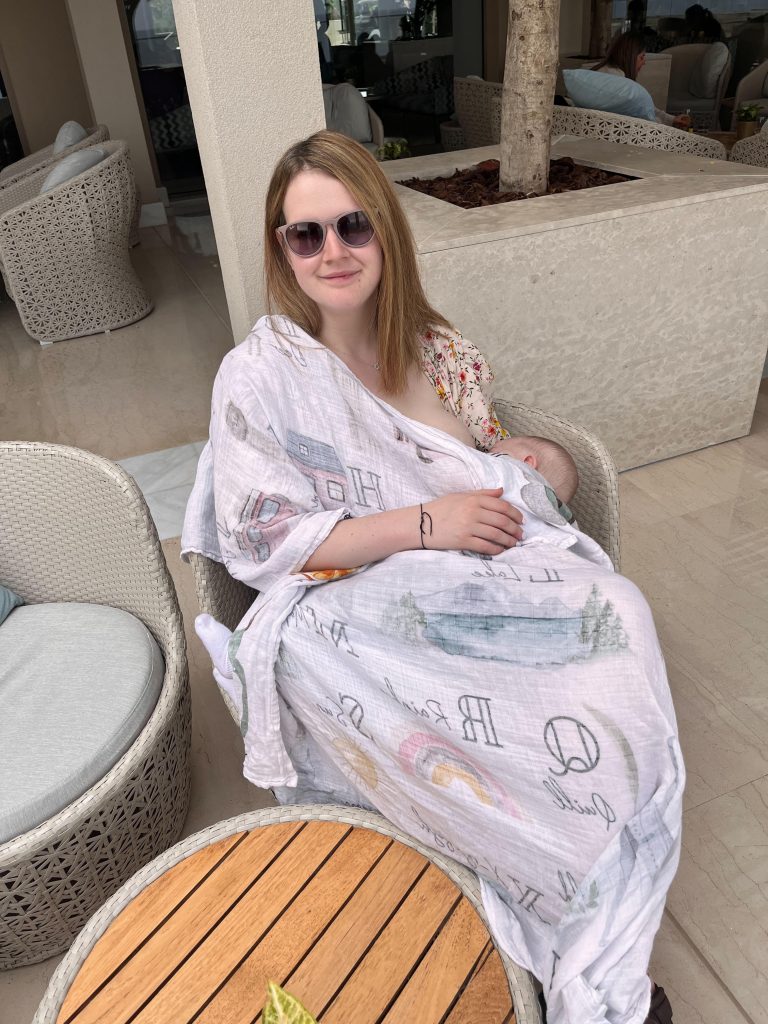 Breastfeeding has allowed me to be everything for my son.
Breastfeeding healed me after a rough birth
I cried a lot when William came home. I was overwhelmed by guilt, by grief for the perfect labour and by anxiety. So I held him and I fed him. Breastfeeding has healed me. Breastfeeding has allowed me to be everything for my son. I have spent hours at night wishing he'd take a bottle and at the same time marvelling at the perfection of the dimples in his hands. I have lamented getting 'my tits' out in public and also laughing with Lewis as I've sprayed milk over cafe tables.
Breastfeeding has helped me to bond with other women and has allowed me to raise my eyebrows in a knowing gesture. I have exclusively breastfed for 7 months and I don't want that journey to end for the foreseeable future
My story might be considered a horror story but I'm so proud of it. Pursuing a complaint has helped me to feel empowered. I don't need to feel guilty. My body grew and delivered a child, it didn't fail me. William is a happy and beautiful soul. I am a mummy. You will be a mummy, no matter the journey, the end result is worth it.