From breastfeeding on a deserted beach in Wales to breastfeeding amongst the beautiful English lavender fields, we are sharing with you the wild and wonderful outdoor places breastfeeding mothers have fed their babies from in the UK.
The ability to feed anywhere, anytime gives breastfeeding mothers a sense of freedom and flexibility which can be incredibly empowering. It means you can enjoy the excitement of discovering new places with your little family – knowing that you are able to nourish and comfort your nursling as and when they need it.
So let's look at 12 of the most beautiful outdoor places parents have breastfed in the UK, and why it was so special and meaningful to them.
Breastfeeding at Alnwick Gardens, Northumberland
"I breastfed my daughter surrounded by cherry trees in blossom at Alnwick Gardens (Northumberland, England). It was a moment of peace and connection, feeding my baby girl in the stunning surroundings of the cherry blossoms in full bloom. The fact that they only bloom for a short time was a reminder of how special our feeding journey has been so far (9 months and going strong!) and how it might feel when it's over." says Sophie Louise Platten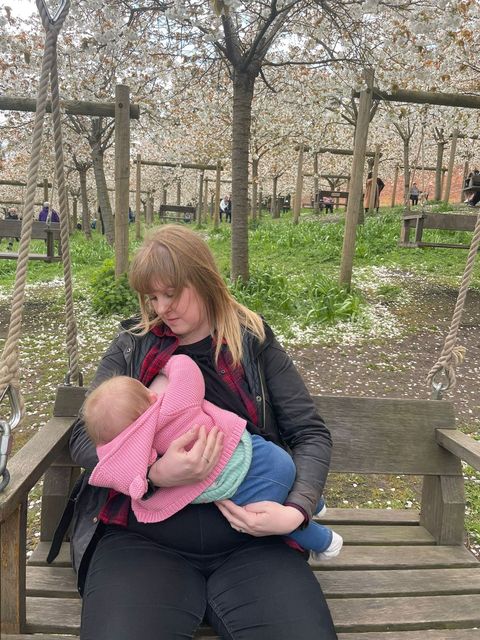 Breastfeeding at Scarborough beach
"We visit Scarborough regularly and breastfeeding on the beach felt surreal. But how amazing I can feed my baby wherever he needs it." says Jess Graven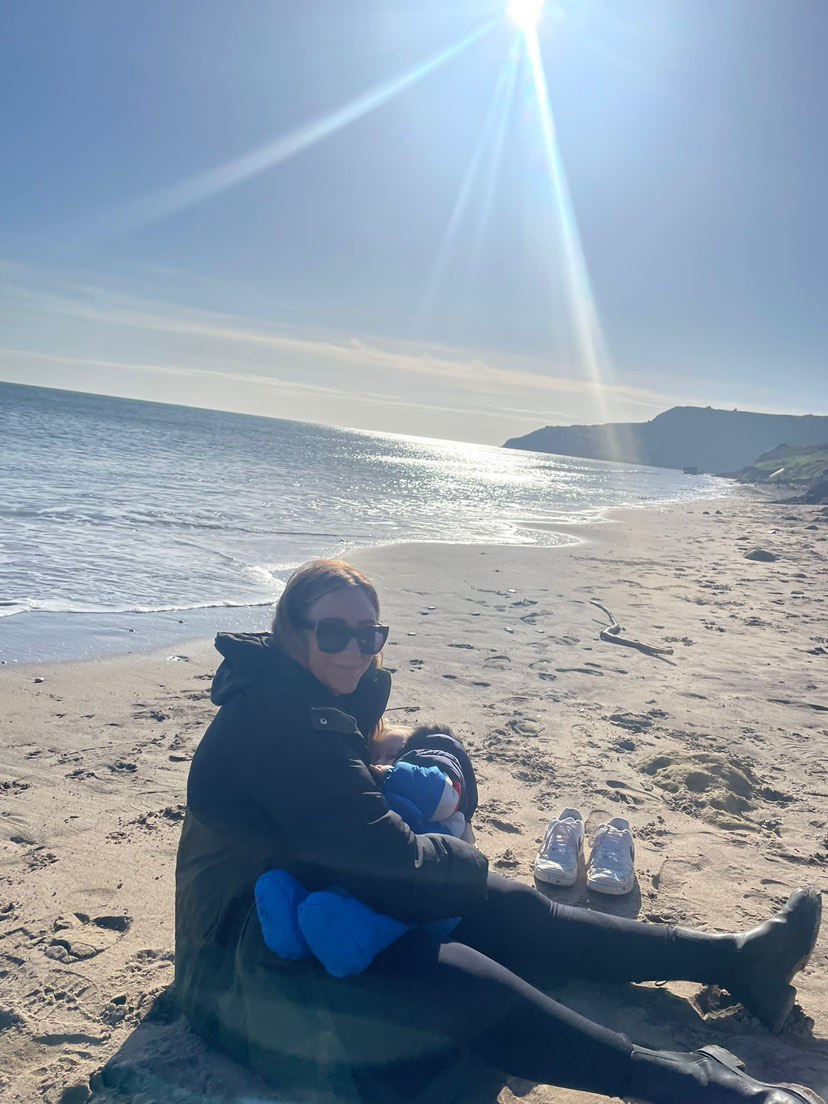 Breastfeeding at the Giants Causeway, N.Ireland
"We wanted to make the most of the summer holidays with our children, so planned on lots of day trips around Northern Ireland. Giants causeway is full of tourists, so there's no real quiet spots – but plenty of rocks to sit on, you just have to find a comfy one.
I was initially nervous as there were quite a few people passing by, but some lovely comments really helped me feel at ease, and the little man enjoyed his Al fresco meal." says Hannah Driscoll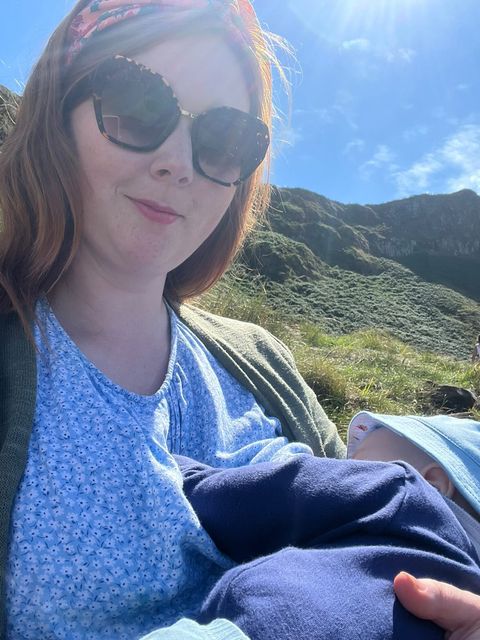 Breastfeeding by a babbling river, Herefordshire
"I was sat by a babbling river breastfeeding my daughter in the beautiful sunshine in Mordiford, Herefordshire. I felt extremely proud of myself, and profoundly lucky to live in such a beautiful area to be able to share this wonderful experience with my first, magnificent daughter Tallulah.
Words can't describe the feeling really to be able to be sharing this moment absolutely wherever we want to with no faffing about or struggles. She was around 6 months old in this picture and we had had the most blissful breastfeeding journey so far, and at 20 months we are still going strong." says Emily Rose Rogers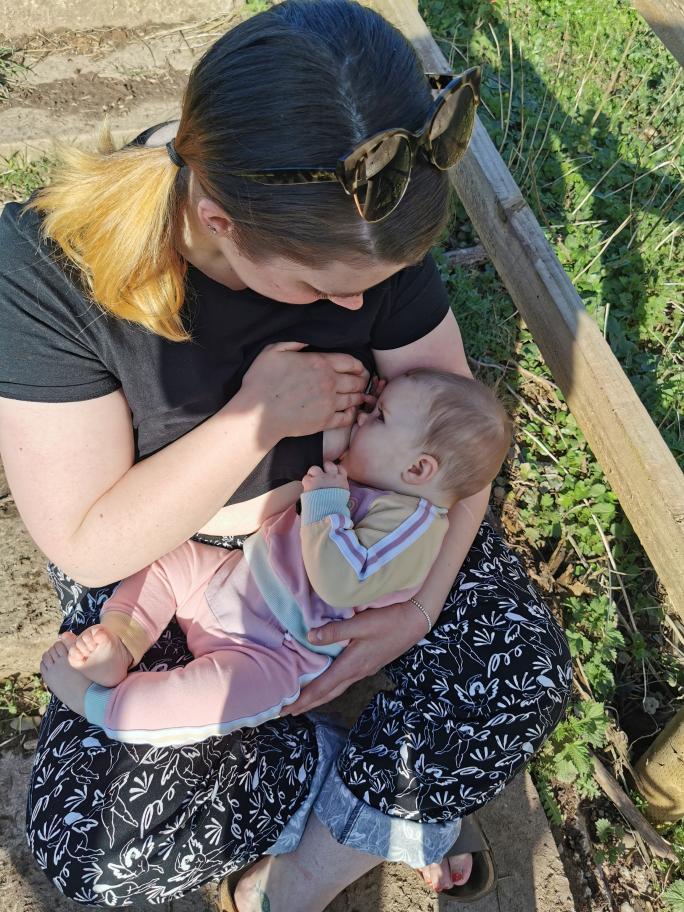 Breastfeeding at Green Hill Park, Solihull
"I was feeding my daughter in Green Lane Park in Solihull (UK). I love feeding surrounded by nature, it just feels so peaceful. I sat listening to the birds and something about feeling the breeze on us both as she's feeding is really calming to me.
Toddlers can be exhausting, chasing round after her at the park is tiring so I really appreciate the calm moments when she asks for a feed and we can sit and cuddle and connect with each other and with nature." says Joanna Nicholson
You can read Joanna's breastfeeding story here.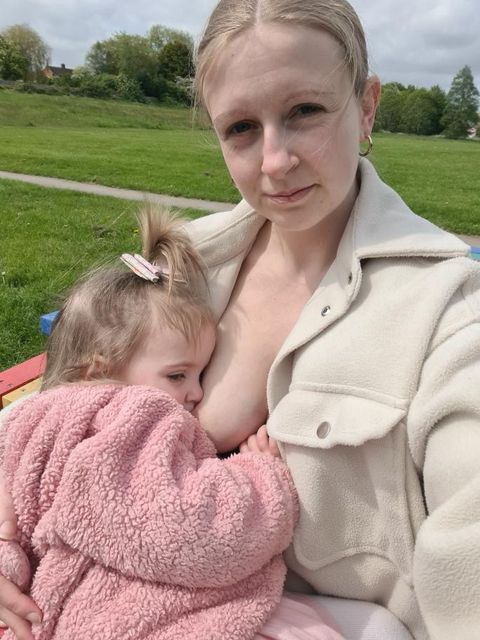 Breastfeeding on Brighton beach
"I had a very fussy 5 month old and feeding in public always made me anxious as she would cry and unlatch constantly, but this day she latched and fed without fuss. It was a beautiful day on Brighton Beach and I'm so glad my partner took this photo. Perhaps it was the fresh sea air, but we were both so happy and content and it was a really special moment for me." says Kelly Creegan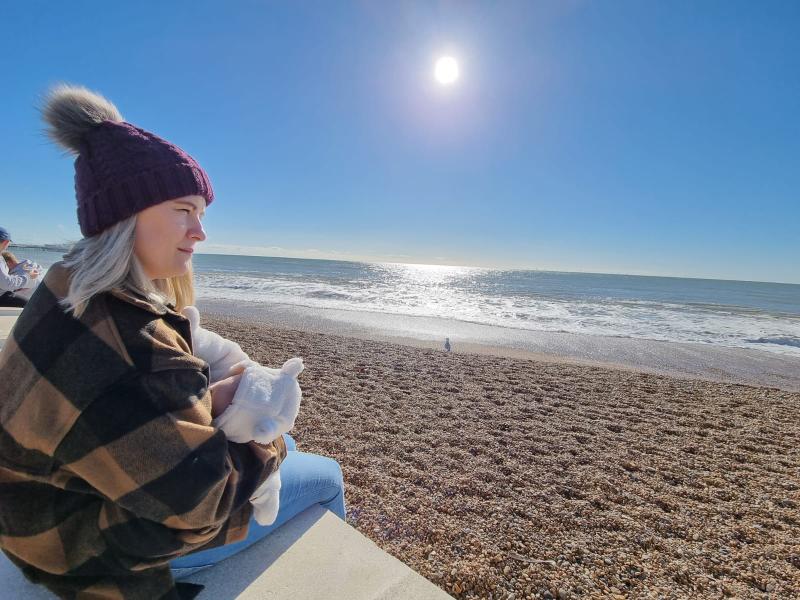 Breastfeeding at Blea Tarn, Lake District
"I ended up breastfeeding at Blea Tarn (Lake District) after a rainstorm! Me and my sister in law are both pictured feeding on the side of the mountain!" says Louise Roberts-Burkinshaw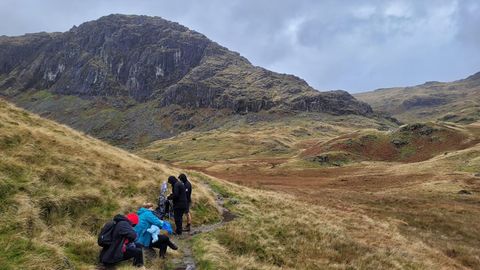 Breastfeeding at Penbryn beach, Wales
"This was me and my son breastfeeding on Penbryn beach in Wales on our first family holiday. It was so peaceful and calm, listening to the waves and just being outside nursing. Freddie was about 11 months here. We continued to breastfeed until Freddie was over two years old and I'm so proud of our journey." says breastfeeding advocate Grace Redmond.
It was so peaceful and calm, listening to the waves and just being outside nursing.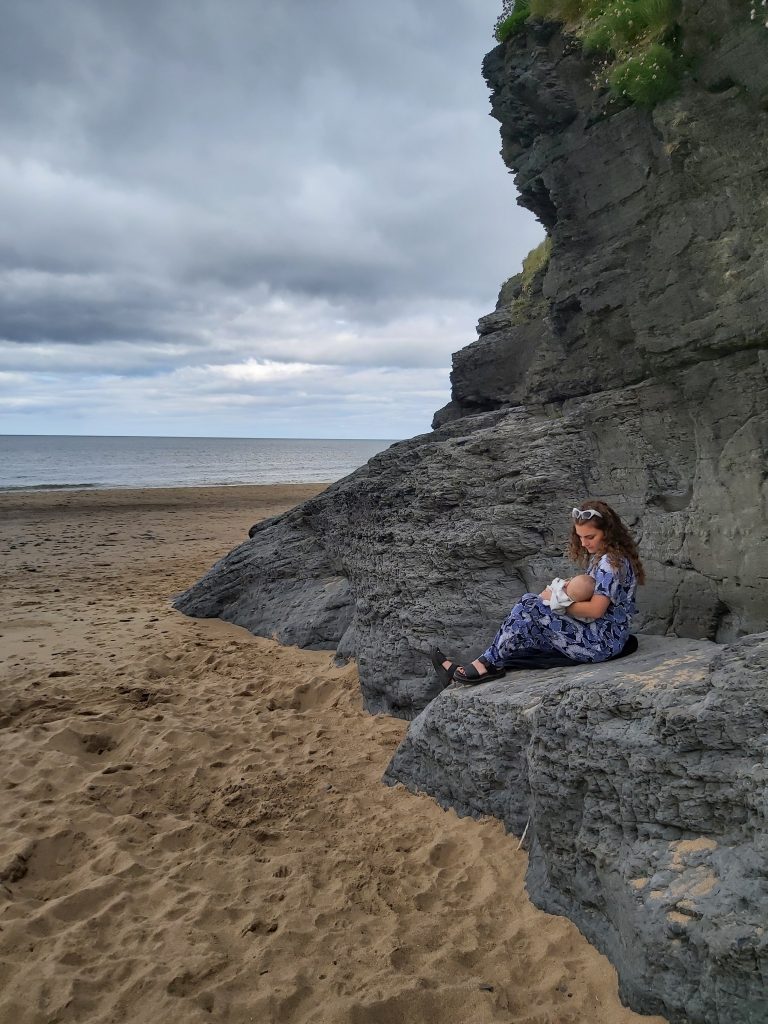 Breastfeeding at Cotswold Lavender, Worcestershire
"Here I am breastfeeding my eldest daughter Autumn at the Cotswold Lavender on my birthday. Autumn was a little over a year here and it felt like such a huge achievement! She fell asleep feeding amongst the lavender with the beautiful hum of all the buzzy bees around us!" recalls midwife and mama of three Madison Purr
She fell asleep feeding amongst the lavender with the beautiful hum of all the buzzy bees around us!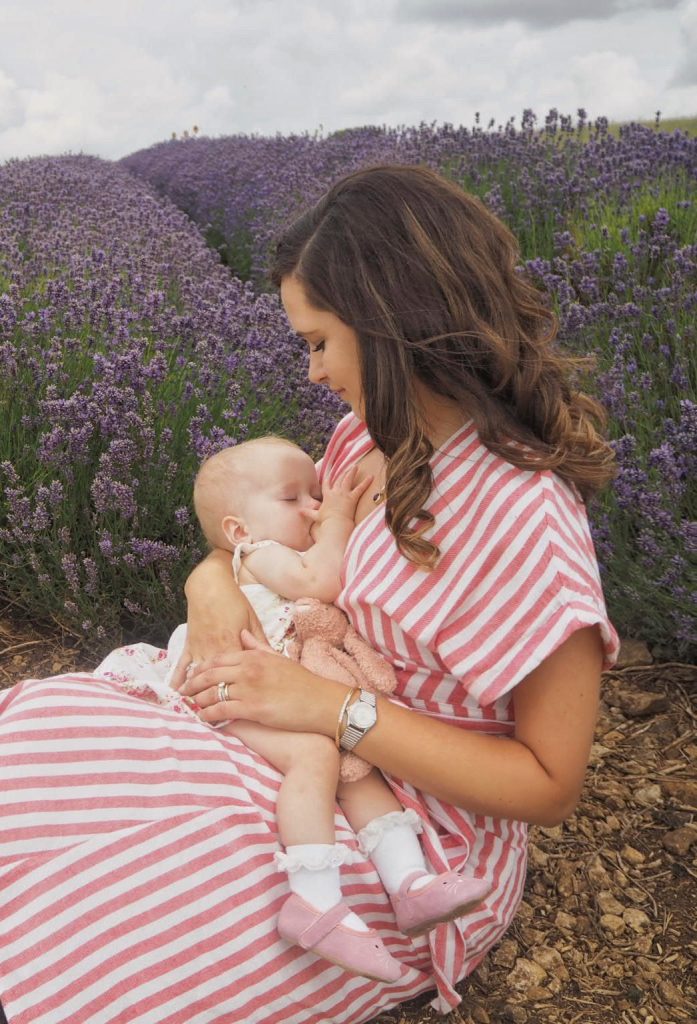 Breastfeeding on a walk in Glasgow, Scotland
"This photo was taken where we used to walk during lockdown whilst I was pregnant. This was the first time breastfeeding Molly in "public" in front of our neighbours the sheep!" says mama of two Rebekah Colquhoun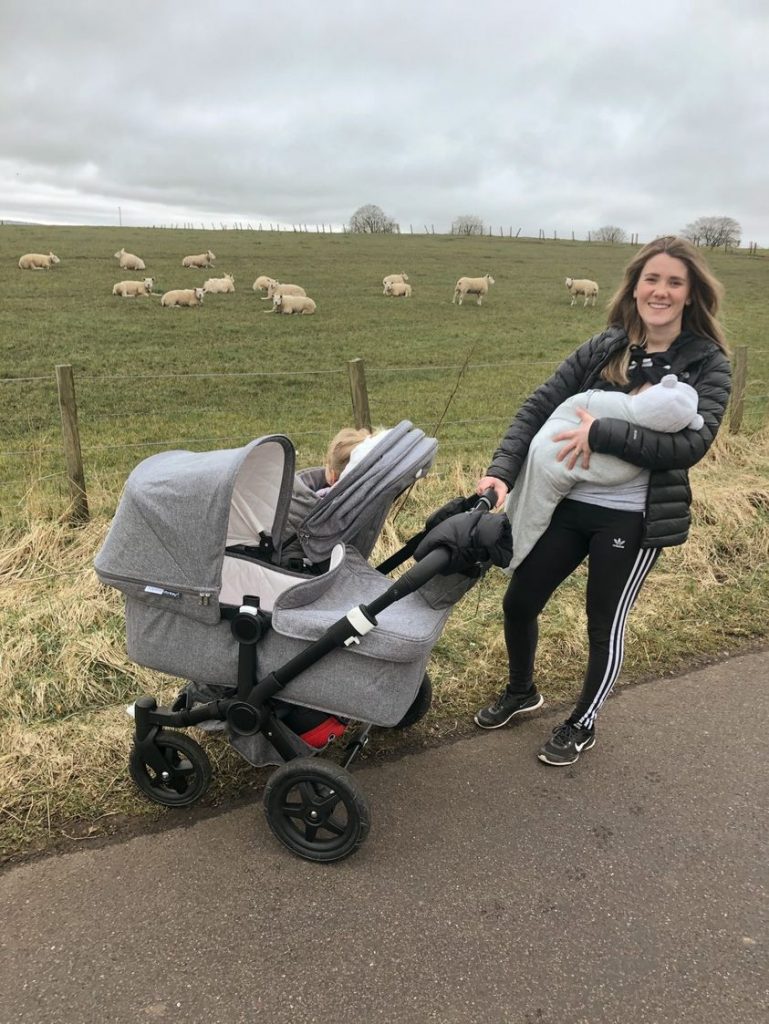 Breastfeeding at Becketts Farm, Birmingham
"This photo was taken of me feeding Jack when he was four months old. We went to a wildflower and sunflower field. Although I felt comfortable to breastfeed in public I felt really empowered that day being able to feed and meet the needs of Jack there and then. It was a lovely calming experience which in the moment made me feel really grateful and proud of myself for breastfeeding. It's a photograph I regularly look back on." says Nicole Mason-Rawle.
You can read Nicole's breastfeeding story here.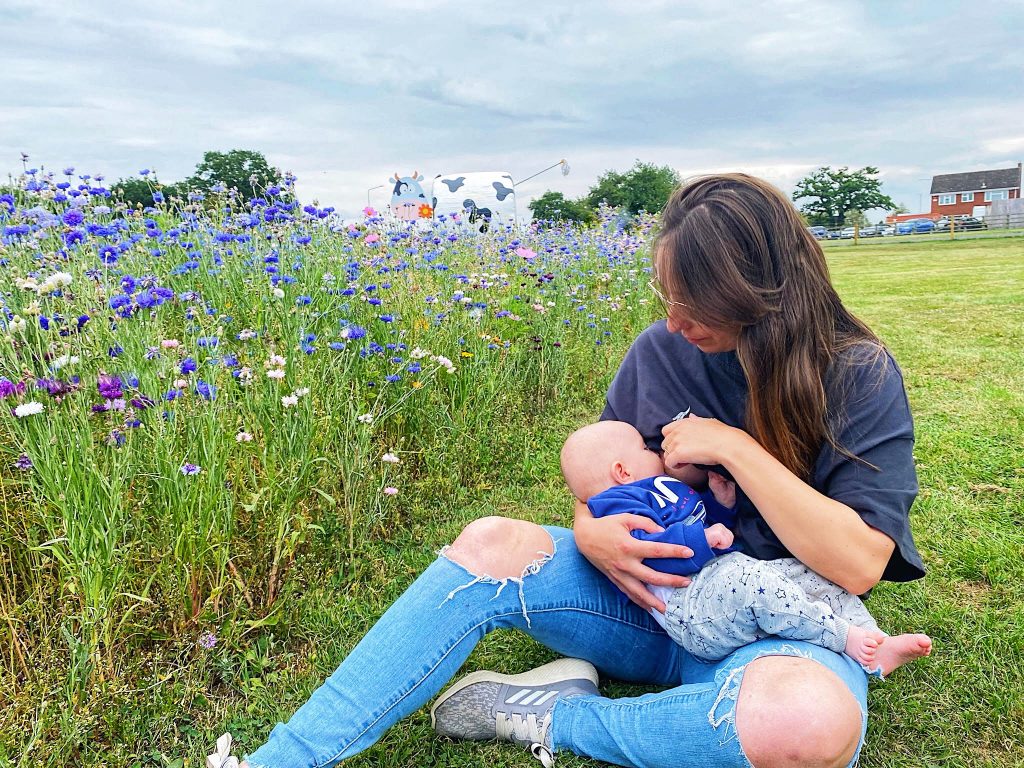 Breastfeeding in the grounds of Newby Hall, Ripon
"This picture was taken in some beautiful surroundings within the grounds of Newby Hall, Ripon. We had been out with family that day, and I wasn't ready to go home after our visit, so we went for a stroll around the grounds outside.
I had to master the walk and feed very quickly with Gabriel. This picture looks so natural, but there were challenges at the start of my breastfeeding journey. I'm so glad I preserved because in the long run, just being able to attach him to me for hunger or comfort is truly very convenient." says HypnoBirthing Teacher and mama of three Colette Myers