I always knew I wanted to breastfeed, but finding out I was having twins made me wonder if it would really be a possibility for me.
16 months later, my twins and I are still on our breastfeeding journey and though it hasn't been without its complications, it's been the greatest blessing.
Preparing for feeding multiples
There was never a question of "how will you be feeding baby?" Because breastfeeding was always a given for me. But when I was told I was actually having twins I suddenly feared the reality of breastfeeding multiples and what that would mean for me.
Luckily, my specialist midwife handed me a little booklet distributed by Twins Trust titled "breastfeeding multiples" and it put my mind to rest immediately. I think I read that little booklet from cover to cover about 5-6 times before my boys arrived! I got myself a nursing pillow, breastfeeding friendly nightgown for the hospital and I thought I was ready for success.
Battling sleepy C-section babies, jaundice and pressure from midwives
My breastfeeding journey was far from the perfect start despite my research and preparation. After a 37 week c-section delivery we were lucky that the twins didn't need to got to NICU. However, the twins were extremely sleepy and didn't take to the breast as quickly and easily as I had hoped they would. It was a struggle to get them latch at all or to stay on long enough to get any milk at all.
It was a struggle to get them latch at all or to stay on long enough to get any milk at all.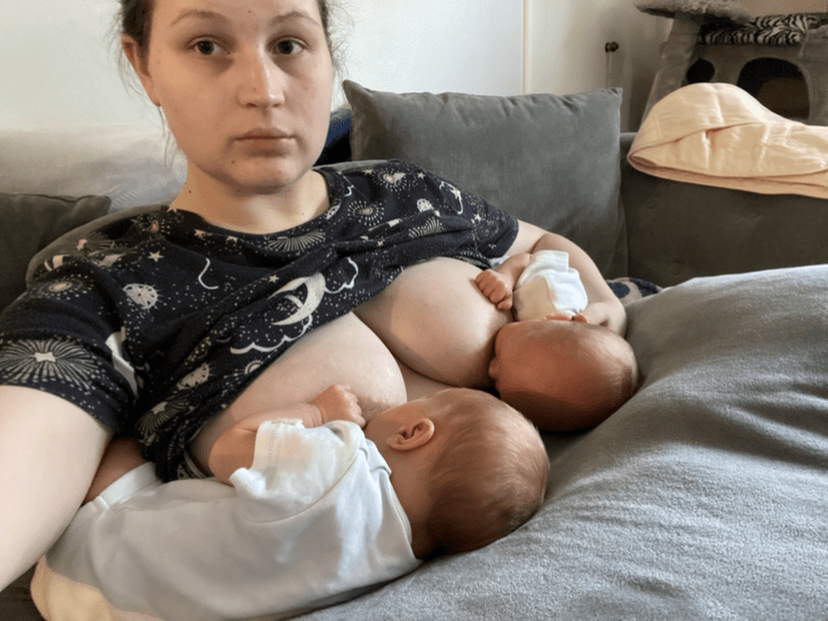 On top of this, both twins had jaundice with one of them needing to be kept under the lamp for 12 hours – I needed to make sure that I could feed them enough to help clear the jaundice. On day 2 post birth, I was extremely upset that the boys wouldn't latch/feed and that breastfeeding just wasn't "clicking" for us. It's at this point, in my extremely vulnerable state that I was told to supplement feeds with formula. I did it because I felt pressured by the midwife and felt frightened that my babies were not fed – but I was extremely upset that I was not getting any real help to feed my babies the way I wanted to.
After this encounter, an Angel midwife entered my room and spoke to me. She was so understanding and she suggested I use a hospital grade pump to help bring my milk in, and to enable me to physically see that the boys were consuming colostrum and just how much of it.
Getting home and choosing to take the lead
When we left the hospital and made it home, my milk "came in" on day 5 and I made the decision to drop the supplement feeds and go to exclusively breastfeeding. I had been advised in the hospital by multiple midwives to track feeds – timings, how much etc. I was sent home with tracking sheets for each baby, but when I got home I sacked this all off.
It didn't feel right to me to be scheduling feeds to every three hours and it wasn't right for us. I decided instead to feed on demand. I did feel it was imperative to get the boys on the same sleep schedule though, to maximise how much sleep me and my husband could get. This meant tandem feeding them together so they would sleep at the same time. How did this work if I was feeding on demand? Any time either baby showed hunger cues, I fed them both!
It didn't feel right to me to be scheduling feeds to every three hours and it wasn't right for us.
I spent a lot of my days with both of them latched on sitting in the corner of my sofa not able to move! I look back now and realise these were the most special days, sitting on the sofa with both my boys in rugby ball hold resting on the nursing pillow just feeding and sleeping as and when they needed. The quiet moments with just us three will remain with me forever. They truly were and are such sacred moments in day to day life. And nothing prepares your heart for feeding both your twins and seeing them holding hands and stroking each others heads at the same time. The bond between not just you and them, but the two of them together is enough to make tandem feeding worthwhile.
Tandem feeding difficulties
The cluster feeding that would ensue from 6pm onwards was completely mind boggling. For a while I was really concerned that it was not normal – but as tiring as they are, they are completely developmentally normal for breastfeeding babies to ensure that mums supply is enough. Though with feeding two at the same time I spent a lot of evenings in the same place unable to do anything!
I also developed recurrent mastitis a few times, but antibiotics eventually cleared it up.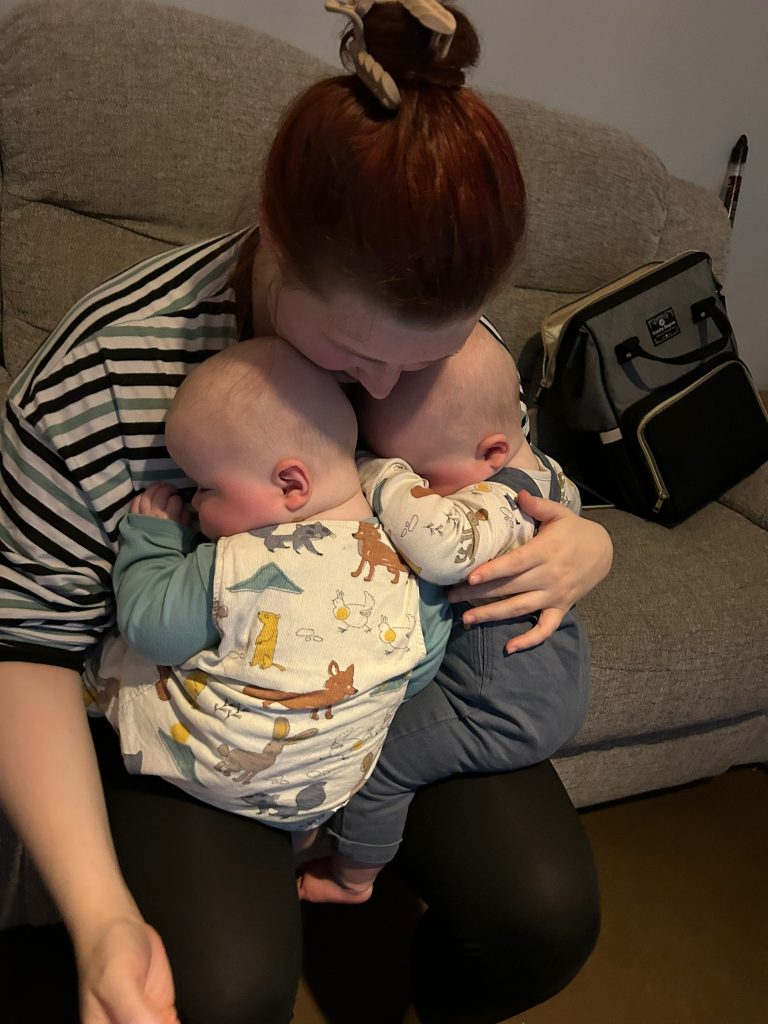 Breastfeeding in public with twins
With twins, another hurdle to overcome is feeding in public, which can be difficult the first few times. In the early days, despite the schedule I had for them I would often opt to feed them separately in public so as not to flash the outside world with both my boobs!
It can be daunting to feed in public but to this day I have only ever had positive experiences and interactions with people in passing. Even now, tandem feeding toddlers with both boobs out in museums among other places!
The importance of family support
At the boys 2 week check, my health visitor was full of lovely things to say about me breastfeeding. She was sure to say I was amazing but she also said something I will never forget; before she left she said to me "you may have to accept that you might not be able to continue breastfeeding them. Having twins is already a lot – you can't do it all." I was taken aback by this comment after hearing her singing my praises and even without me mentioning any concerns about breastfeeding. This interaction was enough to plant a seed of doubt in my head.
I started to seriously believe I couldn't make it to 6 months feeding them when I had hoped to get to that benchmark at the very least. I had even started telling my family that I didn't think I could make it to 6 months. Luckily, my immediate family were extremely supportive. My mum had breastfed both my sister and I so she knew what not to say and how best to support me. My husband was ,and continues to be, a wonderful supporter. Having two to breastfeed meant I was often left with no hands (!) and I recall many a time he would hold water bottles for me to drink from and feed me mouthfuls of meals (I'm certain my dad did the same at times too!)
Constant questions and criticisms from others was hard
What is hard though, is having to face constant questions and veiled criticisms that are intended to make you doubt your own instincts and decisions as a mother. When people who are supposed to support you are constantly saying "with a bottle you know exactly how much they are getting", "are they still hungry?", "Surely they don't need more?", "they'll sleep better with formula." Or "so how long do you plan to breastfeed them for?", "You're STILL breastfeeding?!" and "So when do you plan to stop?".
It can be hard to remember why you're doing it through all the noise. With the support of my husband and immediate family I've been able to ignore the comments.
Journey to weaning
Currently, the twins are 16 months old and are still boobing like crazy. I've successfully managed to wean them off of two snack-y feeds because they were no longer working for us in our daily routine.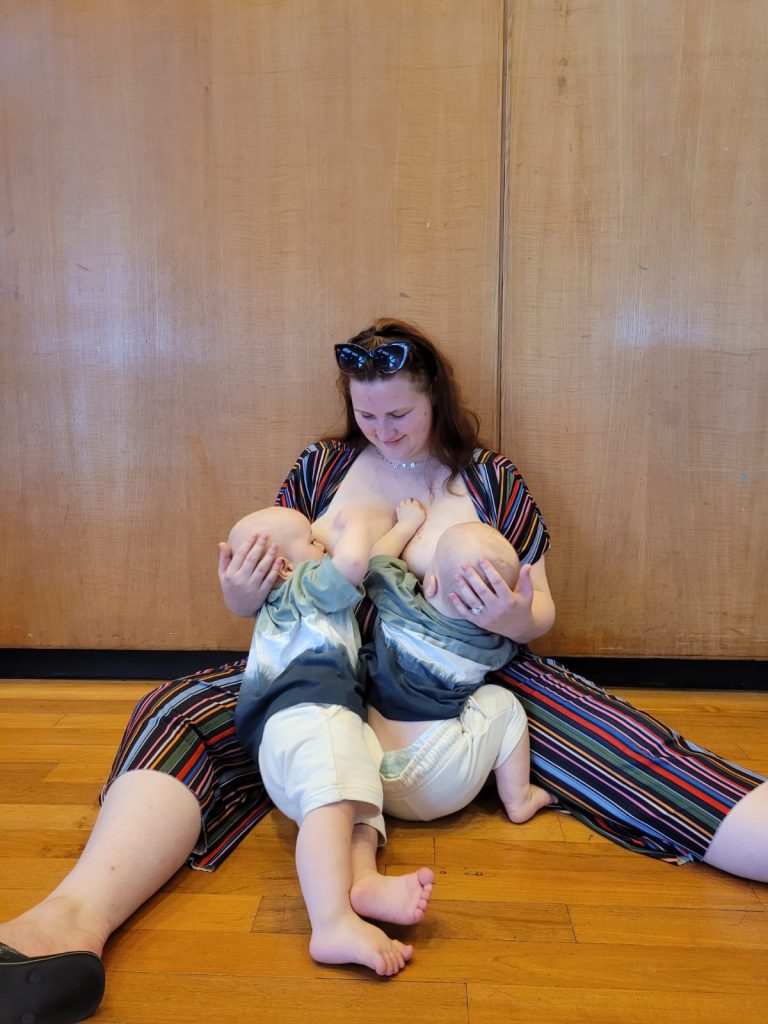 I'm planning to start the slow and gentle weaning journey when they are 18 months but I am hoping to still be feeding them by the time they turn 2. We'll see how it goes. I feel extremely guilty just thinking about it, but I know I will be ready for our journey to end. Knowing that I persevered through the toughest times to do what was best for me and my boys in the long run makes weaning bittersweet.
Know that it is possible, and treasure the gift
I said to my husband very early on in our breastfeeding journey that the best gift I could give the boys was to breastfeed them, but the greatest gift they have given me is breastfeeding too. To have persevered through such tough moments, doubting I could even make it to 6 months feeding them to be where we are today is such a triumph. I'm proud of my journey to be here and will treasure my experience of breastfeeding multiples.
To any other twin mums who are currently experiencing difficulties establishing their breastfeeding journey, or to any expectant twin mums who are worried, please know that it is possible. The difficulties that feeding multiples brings are only temporary and the gift of feeding two is totally worth the temporary struggles.