In what has been another tumultuous and unpredictable year for many of us, we did see more breastfeeding news make the headlines than ever before.
Lots of celebrities and online influencers get real and honest about their breastfeeding journey – the good and the bad! There were breastfeeding depicted in commercials and on tv shows which really got the whole world talking about breastfeeding and why it matters. The result was that more mamas than ever were sharing their breastfeeding journeys and photos. But which ones made the biggest impact and went viral?
Let's take a look at 12 breastfeeding moments that broke the internet in 2021
1. Model Ashley James breastfeeding live on tv
Back in July 2021 British model and reality star Ashley James was a guest on the Jeremy Vine show on Channel 5. Of course she brought along her infant son, whom she fed in the green room before they went live on tv. What she didn't bank on was that little Alf would be crying for mama's milk while she was live on air. She did what any breastfeeding mama would do in the moment, she fed him! Jaws dropped – both inside the tv studio and around the globe! Was this taking breastfeeding in a public to a whole other realm? The controversy it caused shows us just how much further we have to go to truly normalise breastfeeding.
Reflecting on the tv moment Ashley James wrote on her Instagram: "I have to say the outpouring of love and support has been amazing, and I always want to focus on the positives. Thank you! But the amount of abuse from both men and women is a sad reflection of our weird attitudes to breastfeeding in our country."
2. Momfluencer Jenny Tamas addressing all the haters on Instagram
Love them or loathe them but letterboards continue to be popular across Instagram and we love how mom influencer Jenny Tamas put her first ever letterboard to good use. Jenny frequently posts breastfeeding photos to her 100K Instagram followers but this one really packed a punch. Unapologicatally open and honest about her breastfeeding journey's with her two children, Jenny is not a mama to be messed with.
3. Olympian Torah Bright's breastfeeding whilst doing a handstand
When Olympic snowboarder Torah Bright posted a selection of photos to her Instagram account back in May 2021 she wasn't prepared for the backlash she received over one specific picture. It was one of her topless and doing a handstand in the garden while her infant son breastfed. Whilst Torah thought the image was fun many took offence at it, with some saying it made them feel inferior in terms of their fitness, body, and breastfeeding ability. Such was the backlash that Torah posted a video to address the criticism on her Instagram, explaining her intentions were pure and she didn't mean to hurt people's feelings or bring offense.
4. Actress Mandy Moore's emotional breastfeeding post
When This Is Us actress Mandy Moore give birth to her son Gus in February 2021 she was open about what an overwhelming sense of love she's felt for her son. She was also honest about her breastfeeding journey and how it was tough in the beginning but is now a huge source of joy in her life. Hearing her speak so positively about breastfeeding and the bond it can bring did a huge amount to promote breastfeeding.
Speaking about her early breastfeeding experience Mandy wrote: "Breastfeeding is not always smooth sailing (clogged ducts, timing life around feedings, pumping for when I'm at work, etc… ) but nursing this baby boy for the past nearly 6 months has been a beautiful, messy and an oh so rewarding experience I will treasure forever."
5. Actor KJ Apa putting breast milk in his coffee
"My wife is a milk machine and I love it" – these were the word used by actor KJ Apa when he posted a video of himself pouring expressed breast milk into his specialty coffee. Some people were grossed out by it whereas others thought it was an amazing way for a man to support and normalise breastfeeding and pumping.
Together, AJ Apa and his model girlfriend Clara Berry are parents to a little boy, born in September 2021. His viral breast milk video has racked up over 5 million views this year!
6. Popstar turned actress Leigh-Anne Pinnock breastfeeding before hitting the red carpet
When former Little-Mix member Leigh-Anne Pinnock give birth to twins in August 2021, she remained distinctly quiet about motherhood on her social media channels. So when it came to the premiere of her film Boxing Day, which was her debut acting role, no one was expecting to see anything other than her red carpet look. When she posted a slew of photos from the evening, one included the most beautiful black and white image of her breastfeeding one of her twins. Her fans were delighted to get a glimpse into her life as a new mama, and she was showing the world that breastfeeding and glam red carpet events really can mix!
7. The Frida Mom breastfeeding commercial
Famously banned from showing during the 2020 Oscars, the Frida Mom breastfeeding ad soon went global when it appeared during the 78th annual Golden Globe awards on NBC. Depicting real moms and their breastfeeding struggles, the tagline was "Care for your breasts. Not just your baby." The ad made waves around the world and got people talking about breastfeeding in a big way.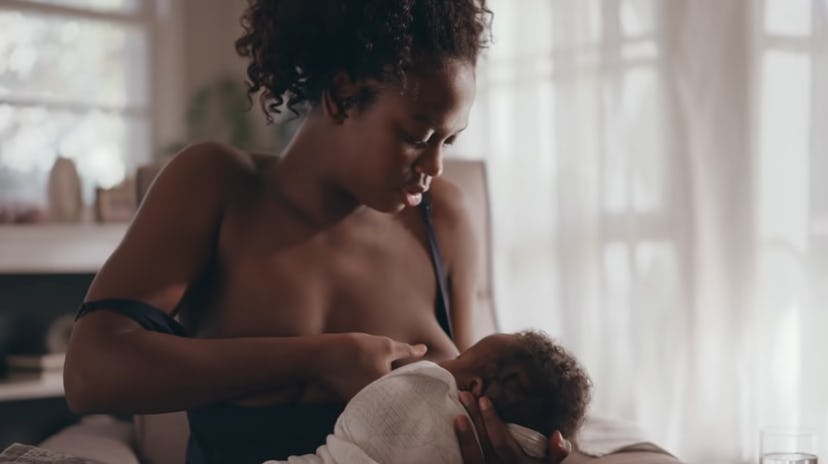 8. Actress and model Emily Ratajkowski's first breastfeeding photo
Actress and model Emily Ratajkowski stunned the world when she announced the arrival of her son Sylvester Bear Apollo in March 2021 via Instagram. The first photo she shared of the tot was one of her breastfeeding him and it made headline news around the world
9. Wonder Woman Gal Gadot multi-tasking
Pumping milk whilst brushing her teeth and getting her makeup done…would we expect any less from the person who plays Wonder Woman? Gal Gadot welcomed her third daughter into the world over the summer and it wasn't long before she was back at work and multi-tasking like a pro.
10. Comedienne Laura Clery's tandem feeding video
Comedienne Laura Clery gave birth to her second child this year and through it all she has made us laugh with her quirky shenanigans. In amongst her comedy skits she shares real-life motherhood moments. One of these happened to be a video her husband took of her tandem feeding her son Alfie and newborn baby girl. The torrent of abuse she received for tandem feeding two differently aged children was unreal – and Laura just couldn't understand the negativity. Speaking out she said: "For those of you who are offended by me tandem breastfeeding my children – I am genuinely curious…why does it offend you that I am helping bond my toddler to my newborn?"
11. Bri and the final breastfeed
Bri from the immensely popular Instagram account @moonandcheese made our list of top 2020 breastfeeding moments and we had to include her again this year. Why? Because she emotionally depicted the last breastfeed with her toddler daughter. "I let her latch one last time, just so I could remember. I held her in my arms and tried to hold on to the feeling. I put her down and she ran off. She didn't look back. She didn't beg for more. She went on her merry little way. And I will too." No, your crying!
12. The Marvel costume that was made breastfeeding friendly
In July 2021 Marvel Studios hit the headlines for reasons you may not have expected. Actress Sophia di Martino who plays Sylvie in the Loki series shared a behind-the-scenes picture of her costume for all to see. Why? Because she wanted to show how the costume designer had included concealed zips to make it breastfeeding and pumping friendly. Speaking about her positive experience on set, Sophia said: "It's little (big) things like this that made it possible for me to do my job AND be a parent." Here here to that!
Shop breastfeeding essentials
A curated list of breastfeeding products to make your journey that bit easier