It is certainly possible to breastfeed after a caesarean birth, however, there can sometimes be challenges to overcome – especially in the beginning.
After a caesarean birth there are some parents who may experience a delay in milk production, particularly if they've had an overwhelming birth experience and if their baby exhibits sleepiness due to the medication involved. 
The good news is, that whether you have a planned or unplanned caesarean birth, you can still look forward to having a successful breastfeeding journey.
Let's look at my sister-in-law Charlotte and her experience. She has had two caesarean births – with the last one being just eight months ago when she welcomed her son Harvey into the world. She explains how it took time and patience to get breastfeeding established:
"Our breastfeeding journey was very hard at the beginning. A mixture of Harvey's jaundice, delayed milk production and hormones, of course, made me feel quite emotional. One thing I would say to anyone is there is plenty of help out there. As a second-time mom, I needed more help to successfully breastfeed Harvey than I did with my daughter. The perseverance was all worth it in the end. Eight months, we are still enjoying breastfeeding."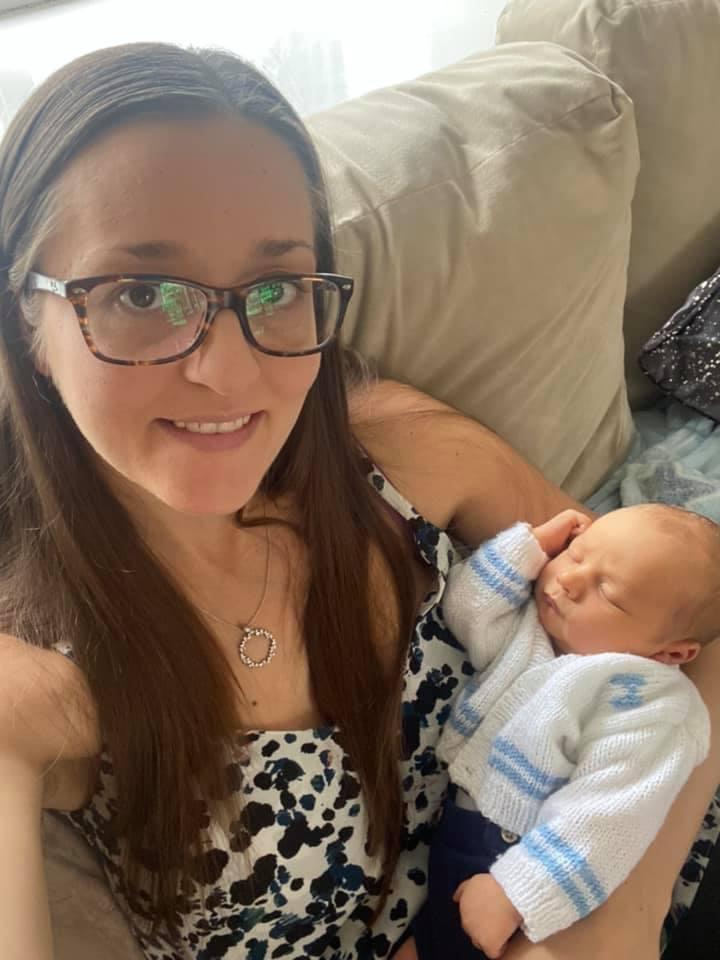 How to get breastfeeding off to the best start after a caesarean birth
Here are some tips to get breastfeeding off to the best start after having a caesarean:
Initiate skin to skin contact as soon as possible after your baby is delivered, ideally within the first hour. Let your health care professionals know in advance so they can help to facilitate this. You may need support to help with the positioning and attachment and you can use pillows if you find them more comfortable.
Experiment with positions that are more comfortable for you. Many parents find lying down on their side or using a rugby ball hold helpful in reducing the contact of their baby and their caesarean scar and therefore minimising any discomfort.
Access breastfeeding support at the hospital. A health professional can observe you feeding your baby and support you with your positioning of the baby and the attachment at your breast or chest.
Try hand expressing your milk if you are unable to feed your baby at your breast or chest straight away. You can hand express your breastmilk and feed it to your baby using a variety of ways which your midwife can help you with.
If you are unable to feed your baby at your breast or chest straight away, you can hand express your breastmilk
For medication-related questions, there are specialist services that can help. For example, in the UK the Breastfeeding Network Drugs Information Service Helpline is available. They have an email service or you can ask their trained pharmacists your question via their Facebook page.
Allow yourself time to recover from major abdominal surgery and try to lessen your expectations about what you will be able to achieve after your baby arrives. You can enlist the help of others with household tasks wherever possible.
Consider seeking out a breastfeeding support group. This may help you to gain confidence and it can be a great way to receive informal support from people who have gone through similar journeys to you.
Contact your local breastfeeding support helpline (for example, the National Breastfeeding Helpline if you are in the UK) if you would like to talk through any questions you may have.
Contact your health professional if you have any concerns about feeding your baby, particularly if your milk 'coming in' is delayed so that they can keep an eye on your baby's health.
References
NCT (2021) Breastfeeding after a caesarean birth. [Online] Available from: https://www.nct.org.uk/baby-toddler/feeding/early-days/breastfeeding-after-caesarean-birth [Accessed 29 March 22]
Bonyata (2018) Breastfeeding after a caesarean birth. [Online] Available from: https://kellymom.com/ages/newborn/newborn-concerns/c-section/ [Accessed 2 April 22]