From breastfeeding on the world famous Brighton beach to breastfeeding on a secluded Caribbean island, we are sharing with you the many beautiful beaches breastfeeding mothers have fed their babies from.
In light of the recent furore that surrounded a mom breastfeeding her little one on a beach (you can read the story here), these mamas want to to highlight how natural and normal it is to feed your baby anywhere and anywhere they need it – including the beach!
The ability to feed anywhere, anytime gives breastfeeding mothers a sense of freedom and flexibility which can be incredibly empowering. It means you can enjoy the excitement of discovering new places with your little family – knowing that you are able to nourish and comfort your nursling as and when they need it.
So let's look at 10 of the most beautiful beaches parents have breastfed on, and why it was so special and meaningful to them.
1. Breastfeeding at Scarborough Beach
"We visit Scarborough (UK) regularly and breastfeeding on the beach felt surreal. But how amazing I can feed my baby wherever he needs it." says Jess Graven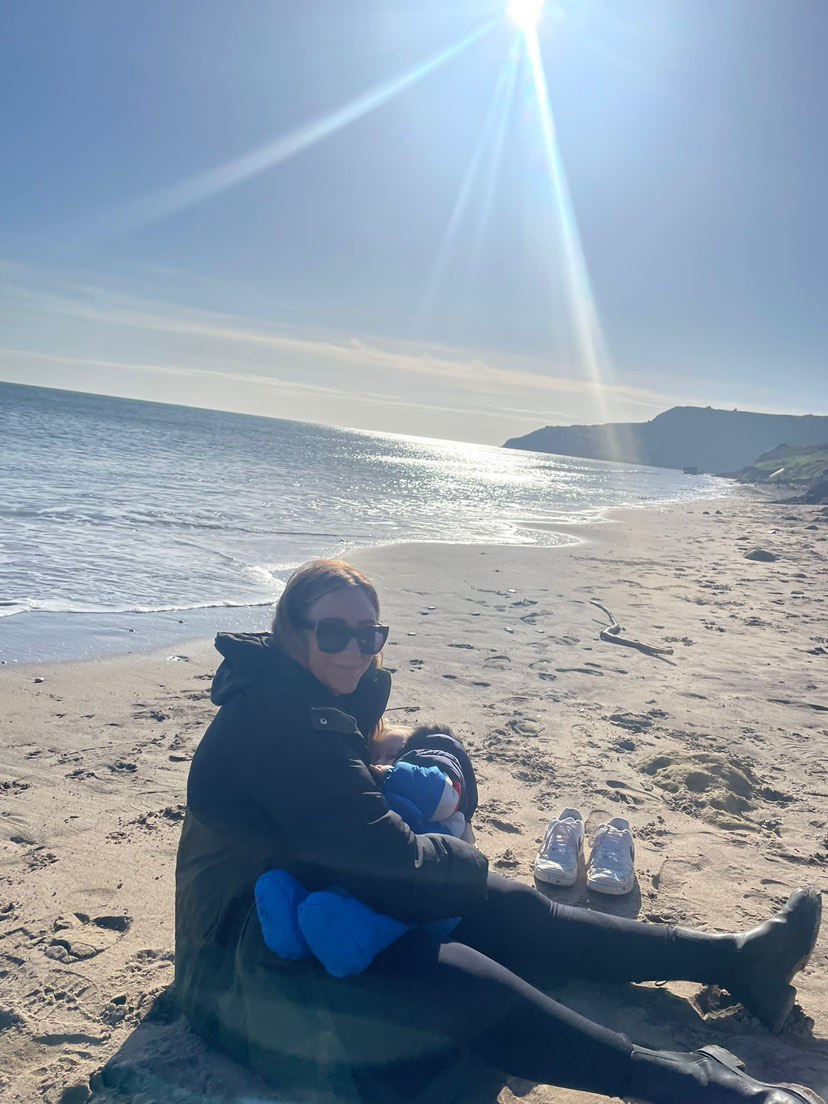 2. Breastfeeding at Penbryn Beach, Wales
"This was me and my son breastfeeding on Penbryn beach in Wales on our first family holiday. It was so peaceful and calm, listening to the waves and just being outside nursing. Freddie was about 11 months here. We continued to breastfeed until Freddie was over two years old and I'm so proud of our journey." says breastfeeding advocate and boobingit contributor Grace Redmond.
It was so peaceful and calm, listening to the waves and just being outside nursing.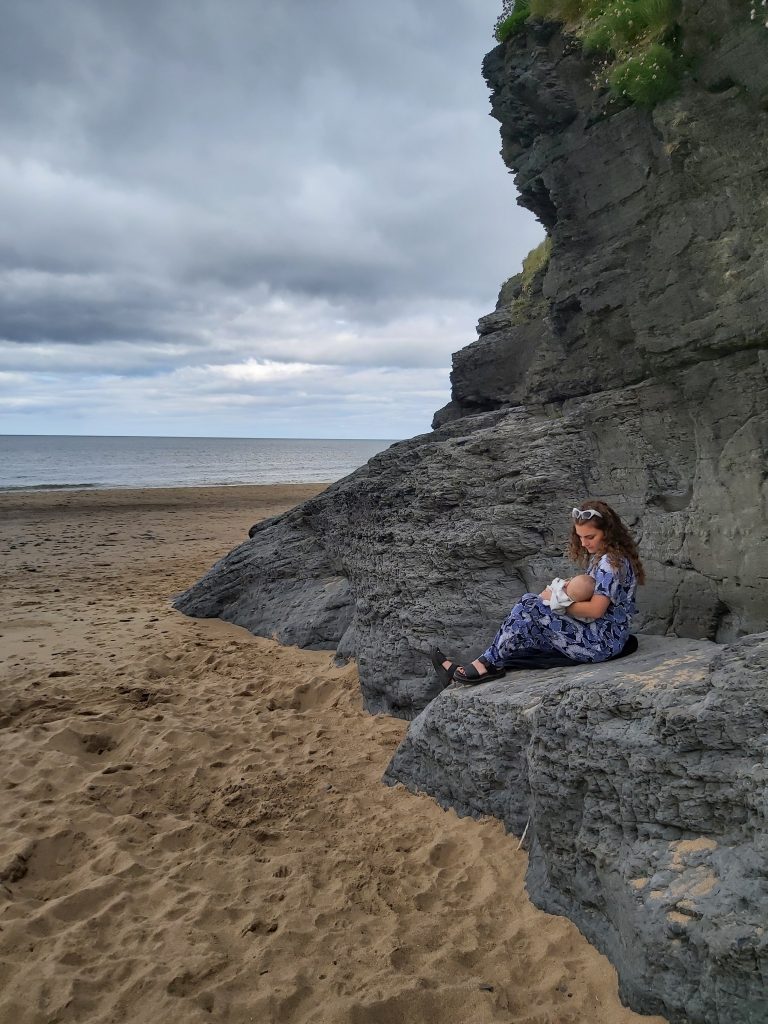 3. Breastfeeding at Brighton Beach
"I had a very fussy 5 month old and feeding in public always made me anxious as she would cry and unlatch constantly, but this day she latched and fed without fuss. It was a beautiful day on Brighton Beach and I'm so glad my partner took this photo. Perhaps it was the fresh sea air, but we were both so happy and content and it was a really special moment for me." says Kelly Creegan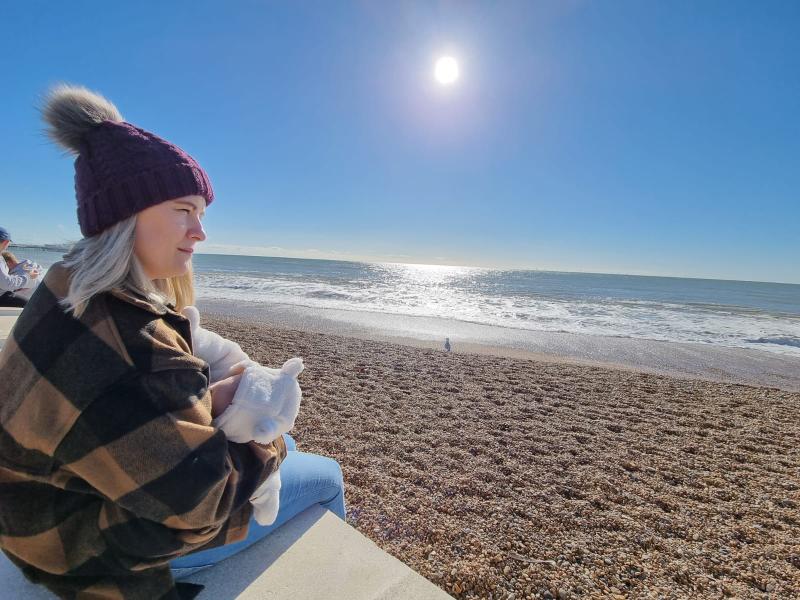 4. Breastfeeding at a beach in Cyprus
"We had a wonderful first family holiday in Cyprus last year with our son who was 4 months old, where we spent a lot of time on the beach. It was really special to feel free and relaxed to feed him and have a lovely contact nap watching the sun set over the sea. Definitely a moment to cherish." says Hannah Blake
It was really special to feel free and relaxed to feed him and have a lovely contact nap watching the sun set over the sea.
5. Breastfeeding at Bamburgh Beach
"We were on our first family holiday in Northumberland and was on a coastal walk. We had visited Bamburgh Castle and was taking a walk along Bamburgh beach. I remember thinking how beautiful it was, and then my daughter needed feeding. So I sat on a rock and fed her. It was such a peaceful experience, and one I won't forget." says Gemma Johnson
You can read Gemma's breastfeeding story here.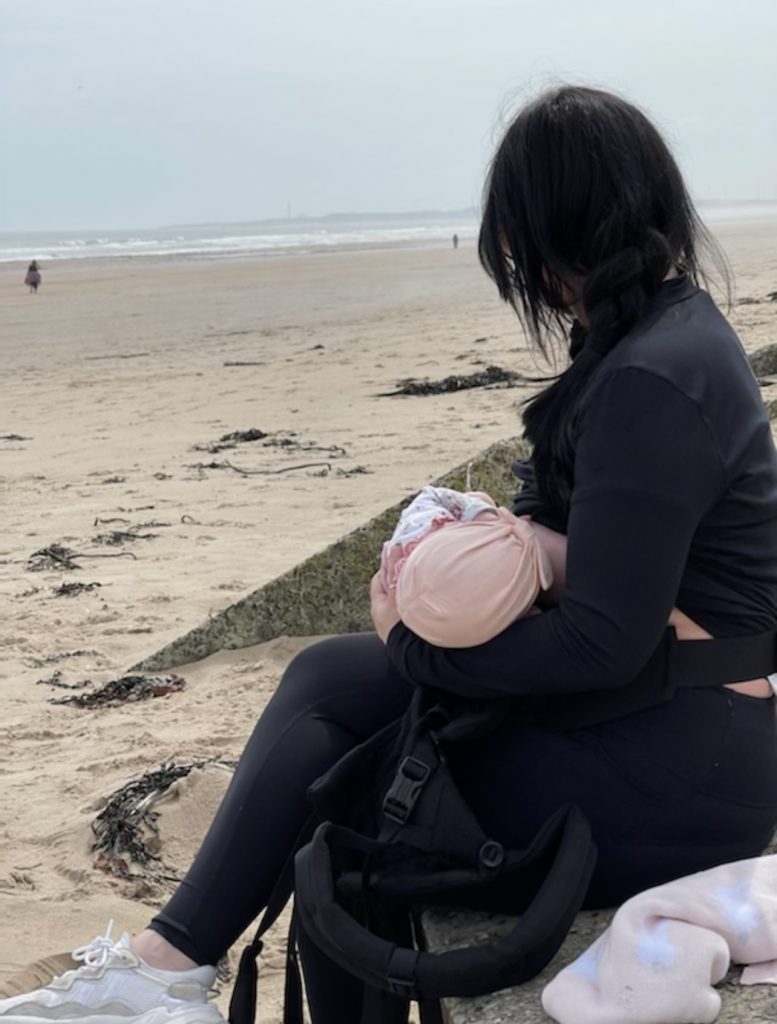 Shop a curated list of baby and breastfeeding must-haves
Visit the boobingit storefront on Amazon
6. Breastfeeding at a beach in Cornwall
"Here we are breastfeeding on a beach in the North Coast of Cornwall. It was lovely to breastfeed in nature with the sounds of the sea. This was our first holiday as a family of four so will always hold a special memory." says Natalie Martindale from The Wiltshire Mummy
You can read Natalie's breastfeeding story here.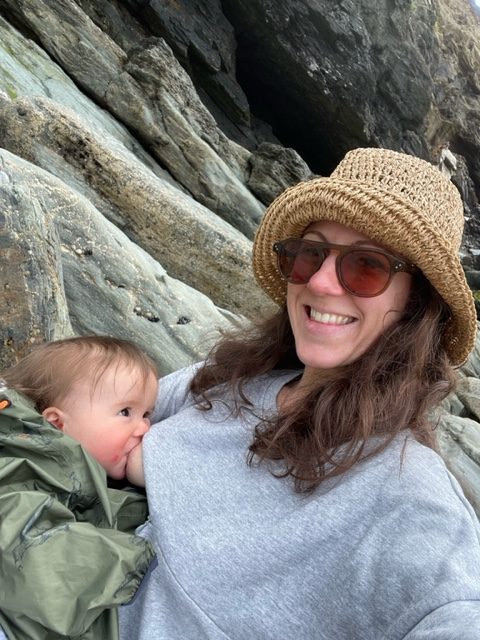 7. Breastfeeding at Lytham St Anne's Beach
"The evening of this photo was just beautiful, sun was shining and we were renewing our vows in a few days. I remember looking out to see whilst feeding Bella and being so grateful. It was getting closer to Bella's bedtime so she just wanted snuggles and the boob." says mama of four Rachel Davies
You can read Rachel's breastfeeding story here.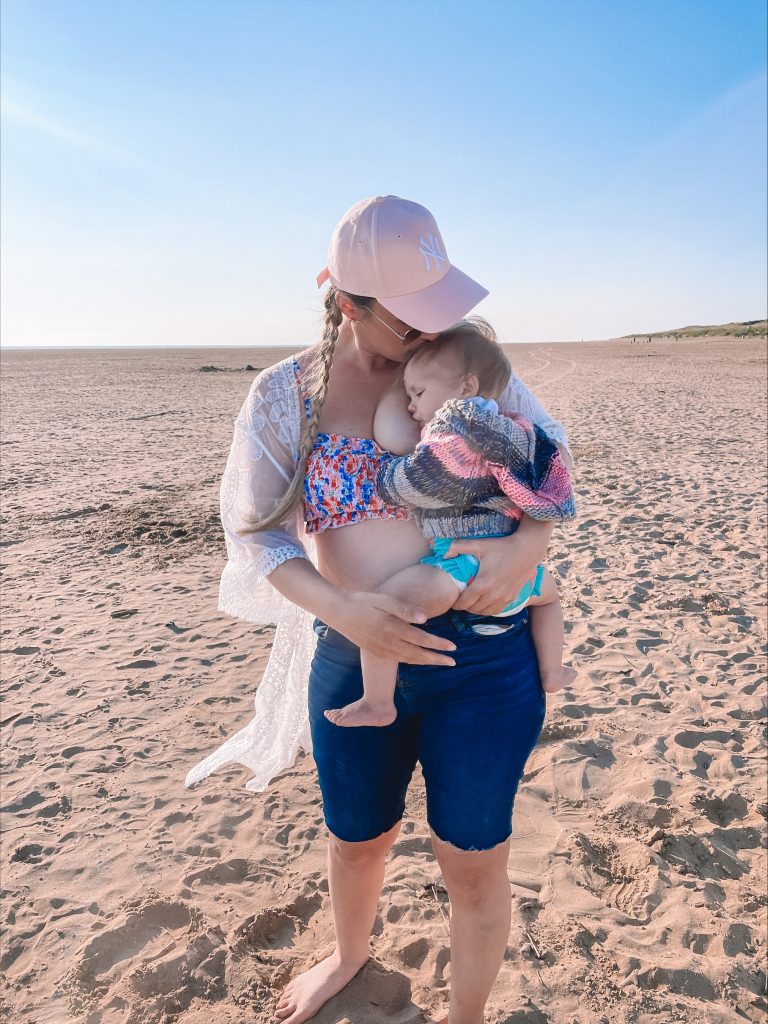 8. Breastfeeding at a beach in Norfolk
"This was a beautiful, day in the heatwave summer of 2022. It was about 40degC so we went to our favourite swimming spot on the north Norfolk coast where it's always quiet and went for a refreshing swim. It was magical feeding my 6month old in my favourite location in Norfolk and on such a beautifully warm day." says Fiona.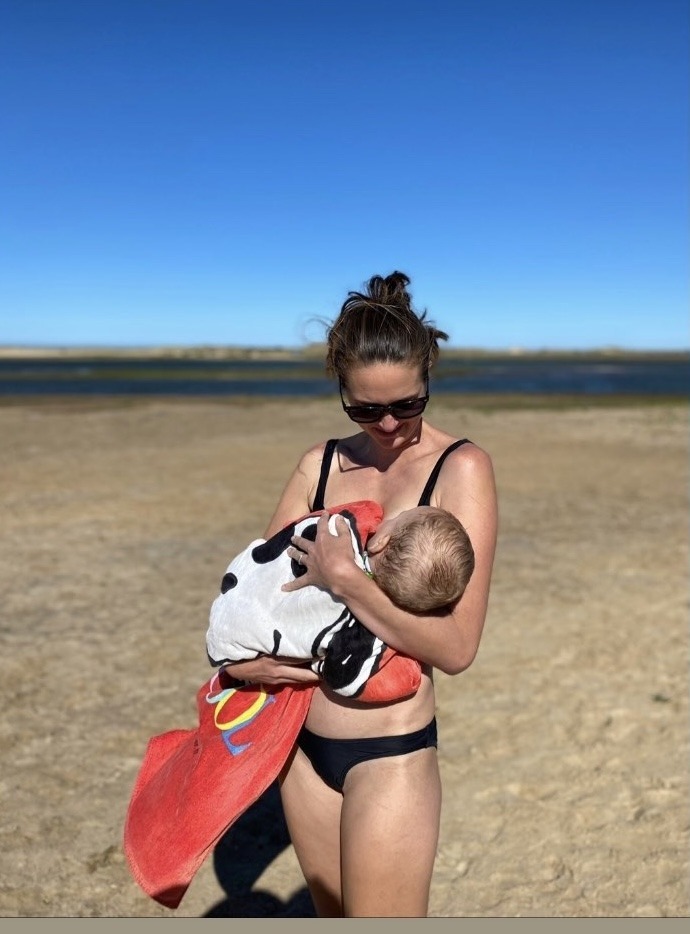 9. Breastfeeding at a beach in Curacao
"This picture was in Curacao, a Dutch Caribbean island. Every year my husband and I do a beach vacation with my parents. Henry was born in the height of the pandemic and we never got to go while I was pregnant. This was our first year traveling overseas again. Henry was 9 months old and I was so happy to be able to breastfeed. I didn't worry about packing anything and didn't need to bring anything since I'd been feeding on demand for 9 months. I was his main source of nutrition. No bottles, formula, coolers, etc. It was a very freeing and empowering feeling to relax on a beautiful beach with my family and know my baby had all he needed right there from me." says ER doctor and mama of two Dr Mia Mor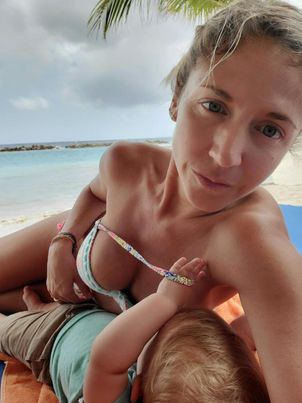 10. Breastfeeding at Morecambe Beach
"This was taken over the summer holidays at Morecambe beach! It was during Black Breastfeeding Week to symbolise #weoutside." says Breastfeeding Peer Supporter and boobingit contributor Faith Smith.
You can read read Faith's piece on Black Breastfeeding Week here.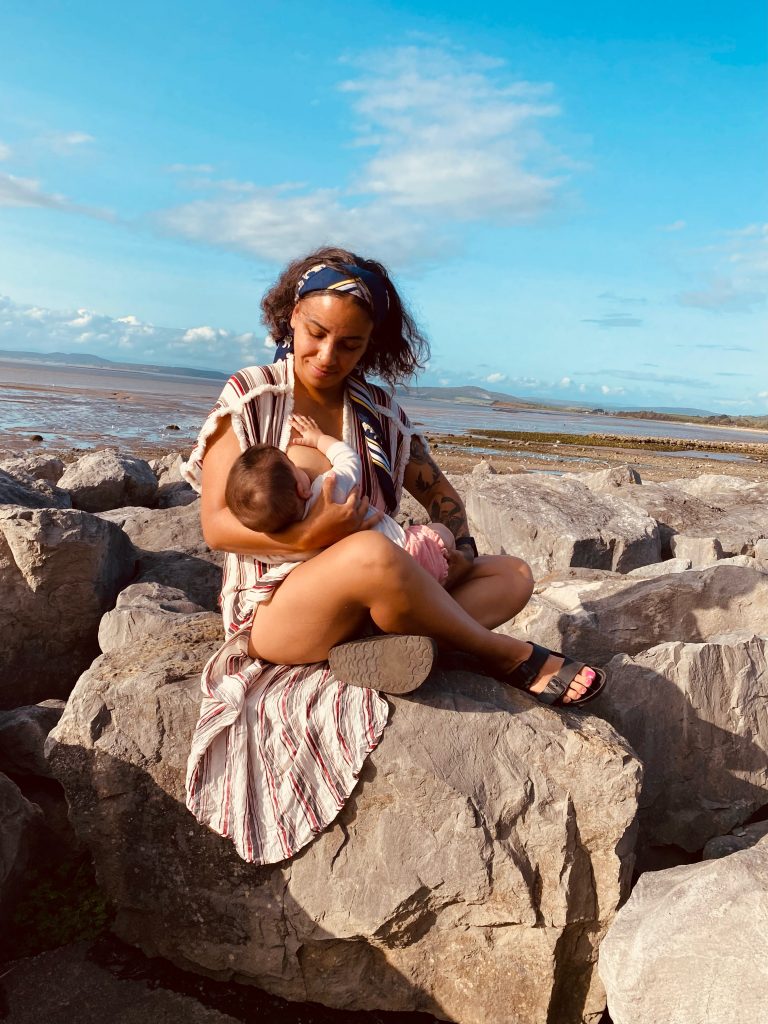 Shop a curated list of baby and breastfeeding must-haves
Visit the boobingit storefront on Amazon