After a long January, the month of February always seems to go within the blink of an eye. Luckily, we managed to see a number of great breastfeeding updates from some of our favourite celebrities during February 2023. But which celebrity breastfeeding moments made it on our list?
Let's take a look…
1. Tamara Ecclestone
Mother of two Tamara Ecclestone Rutland has been a huge advocate for breastfeeding, and has particularly championed breastfeeding beyond infancy. She is currently feeding her two-year old daughter Serena. In February, Tamara posted a beautiful image of her nursing her daughter, with the simple but powerful statement: "It's not just about the milk.❤️". Her followers were quick to praise Tamara and agree with her sentiment. @motherhood.bubble replied: "I couldn't agree more @tamaraecclestoneofficial ❤️"
2. Lauren Toyota
Canadian author and TV personality Lauren Toyota recently uploaded a photo of herself using a double electric breastpump, with her bra pulled down over her stomach and her dog in the background. She humorously captioned the photo 'I should start an only fans🤔🤪". Lauren became a new mama in 2022 and regularly keeps her followers updated with mom life and breastfeeding.
3. Molly-Mae Hague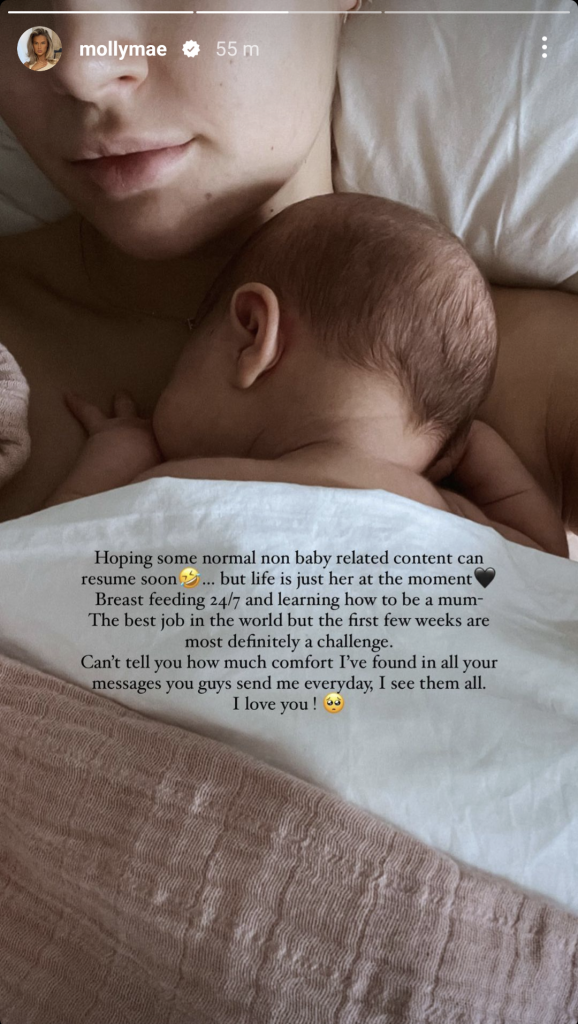 Former Love Islander Molly-Mae Hague welcomed her baby girl Bambi in January 2023. Since then it's clear that she and boyfriend Tommy Fury are besotted with their little girl. Molly-Mae has given us glimpses into her breastfeeding journey. In one of her Instagram Stories she uploaded a heartwarming photo of her holding Bambi to her chest. She added the words: "Breast feeding 24/7 and learning how to a mum."
4. Jorgie Porter
Actress Jorgie Porter made our celebrity list last month and she's made it again this month! Jorgie celebrated the birth of her first child at the end of 2022 and since then she has posted various breastfeeding pictures. This month Jorgie uploaded a beautiful photo of herself breastfeeding her son on a sofa, with a very relatable caption about having to do most things one-handed!
5. Heather Rae El Moussa
Selling Sunset star Heather Rae El Moussa, welcomed her first child with husband Tarek at the very end of January 2023. Since then she has been consumed with new motherhood and getting to grips with breastfeeding. Alongside a photo of her holding her newborn, Heather updated her fans on her breastfeeding journey so far. She openly discussed the obstacles she's faced so far with establishing breastfeeding – including tongue tie, cheek tie and lip tie. She ended by saying, "It might be hard and challenging at the moment but it is such a special experience that I get to share with our baby boy and we're working together to make it easier like we're a little team 🤍🍼."
6. Chloe Madeley
In honour of Valentines Day, Fitness Expert and author Chloe Madeley uploaded a variety of photos of her baby daughter who was born in August 2022. Amongst the adorable photos was proud new mama Chloe breastfeeding her little girl. Her followers were quick to praise the breastfeeding photo, with one commenting: "That breastfeeding photo is the most beautiful photo 😍🙌 good on ya mamma!!!"
What celebs will we be posting about next month? Check back to find out!