After a short break in recordings, the boobingit podcast is back! This week I am joined by Caitlin who is a mama of three girls. She has twin girls Isla and Mia who are five, and then there is her youngest daughter Skye who is 2. She talks in detail about what it's like tandem feeding twins.
Caitlin was good enough to share her story of breastfeeding twins in the 'Breastfeeding for Beginners' ebook (which you can buy here). Breastfeeding multiples is no easy feat so I wanted to have her on to the podcast to talk about her experience in more detail. I also wanted to shine a light on what it's like tandem feeding twins to then breastfeeding a single baby!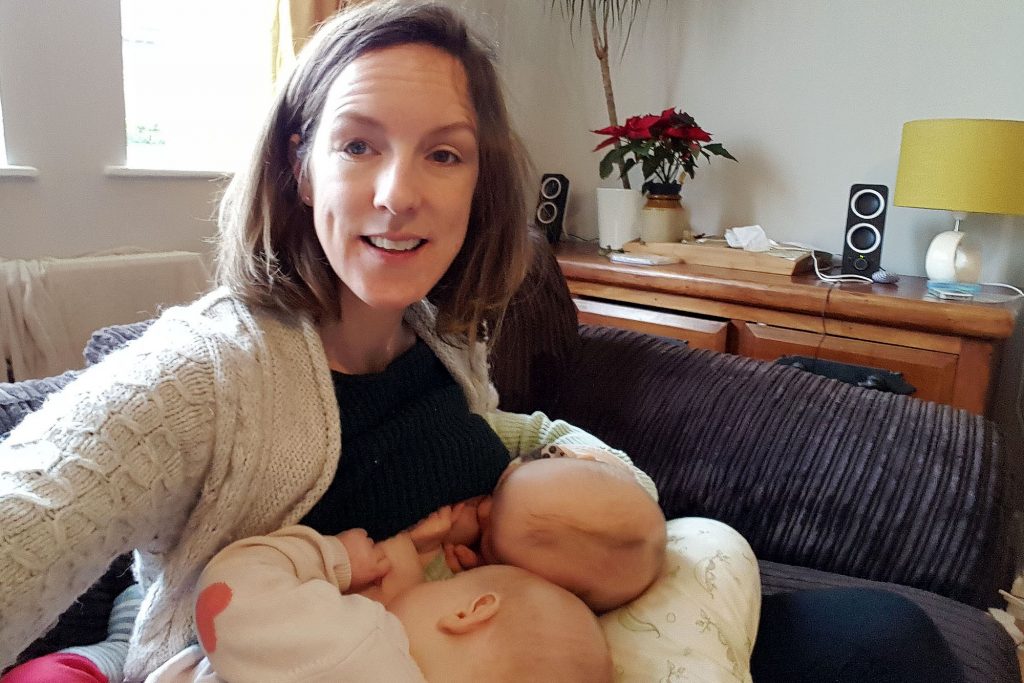 In our chat, Caitlin talks about her surprise at finding out she was expecting twins and what she did to prepare in terms of breastfeeding. Caitlin tells us about her birth and how she was able to establish breastfeeding in those first few weeks. She touches on what it was like breastfeeding in public and why she thought tandem feeding was the best option from the very beginning.
Listen to the episode here
Caitlin also shares some fantastic tips and advice on feeding multiples and gives us a really great insight into breastfeeding twins and then breastfeeding her third baby!
"I tried to tandem feed them both from the beginning as I'd read that this would make life a lot easier! It's supposed to help them be more in-sync with each other and, then as time goes on, it can help them sleep at the same time too."

Caitlin
Key talking points
The research she did for breastfeeding twins – including resources from the Twins Trust
Recovering from a c-section and learning to tandem feed twins
How the people around her helped her successfully establish breastfeeding
Really practical tips and advice for feeding multiples and how to be comfortable doing it
What it was like going from breastfeeding twins to then breastfeeding just one baby!
This episode of the boobingit podcast is sponsored by NINE + QUARTER maternity, a brand that offers a different kind of maternity and nursing wear. Their mission is to bring you on-trend, organic and easy-to-rock designs that fit seamlessly into your pre- and post-pregnancy wardrobe without compromising your style. Listen in to the episode for an exclusive 15% off code to use across the NINE+QUARTER pregnancy and breastfeeding range.